George M. Cohan In America's Theater
|
home




Broadway Emperor: 1910-1919

At the beginning of this decade Cohan and Harris continued their overwhelming
success in the American Theater. While their successes from 1909 carried into
the following year, September saw their longest running show ever -
"Get Rich
members in three organizations: The Lambs Club, The Players Club, and The
Friars. All three of these organizations were expressly formed to provide members
of the theatrical profession a place of recreation and relaxation. George M.
himself explained the difference between the clubs.
"The Players, is a group of gentlemen trying to be actors, The Lambs is a bunch
of actors trying to be gentlemen, and the Friars is a bunch of guys trying to be
both."
In particular, George enjoyed belonging to the Friars because it was the only
actor's club that his father Jerry belonged to. On April 3, 1910, The Friars
held a special banquet in honor of George M. Cohan. Jerry, needless to say,
was extremely pleased.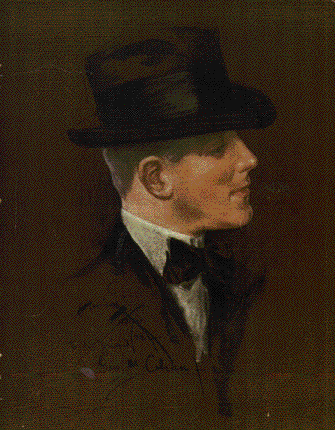 Cover of a Friars Program from 1916
George M. would go on to be named Abbot of the Friars more than any other
actor in the history of the organization. He served from 1912 -1919, 1921 - 1926,
and 1928 - 1932.
George and Agnes also had reason to celebrate that year. They became the
proud parents of a daughter, appropriately named Mary, and on September 13,
a second daughter, Helen (named after George's mother) was born. Almost
20 years later, Helen would appear along with her father in her Broadway debut
"Frendship" (1931).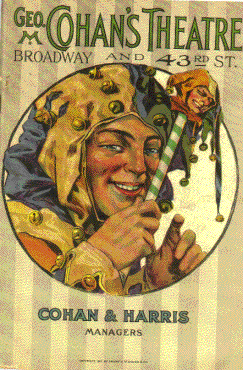 Program Cover for The Cohan Theater
On February 13, 1911 the George M. Cohan Theater opened its doors at 1482
Broadway & 43rd Street. It's narrow entrance lead to a marbled lobby which
had murals depicting the Four Cohans up until the event of "The Governor's Son."
After you entered the theater, you were treated to various scenes from his
Broadway successes that were painted on the walls above and surrounding
the boxes. The theater was virtually a shrine to his career. Opening night
featured "Get Rich Quick Wallingford," recently transferred from The Gaiety.
The theater, became a full time movie house in 1932, and by 1938 it was
demolished.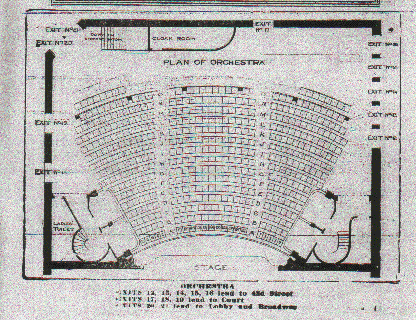 Lower level floorplan of the George M. Cohan Theater
Also, in 1911 George M. signed a contract with RCA Victor and on May 4,
recordings don't really give justice to Cohan as either a singer or performer (he
had more energy and bounce in the dismal "Phantom President" 21 years later).
I suppose that it should be remembered RCA and other recording companies,
had primitive and/or no recording techniques in 1911 (i.e. a performer had to
compromise their performance in order to record a steady voice level). Even an
enigmatic performer like Al Jolson (who recorded "That Haunting Melody" in
1911) hardly can be judged by those recordings. But, they still remain our only
glimpse into what was. Incidentally, Jolson also performed "That Haunting
Melody" in his second show with the Shuberts, "Vera Violetta" (1911). It was
the popularity of the song caused Jolson to record it. Whatever the case, Cohan
must not have enjoyed the recording work, because he never went into the studio
to record again.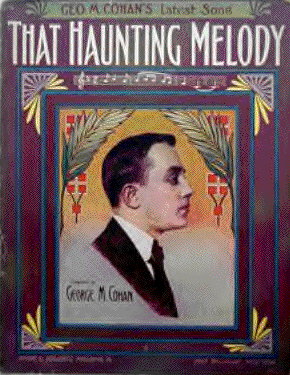 Sheet Music Cover of a song covered by
Al Jolson
In September of 1911 brought about more critical and financial success as George
performance a young songwriter met his hero for the first time; Irving Berlin.
They formed a quick friendship, and when Cohan found out that Irving was the
author of "Alexander's Ragtime Band," he invited Berlin to write a few songs (which
Cohan interpolated in the final run of "The Little Millionaire"). A few years later,
in the Cohan Revue of 1918, Cohan used more songs written by Berlin. They
formed a friendship that lasted the rest of Cohan's life. After the firm of Cohan
& Harris dissolved in 1920, Sam Harris produced all four of Irving Berlin's
own "Music Box Revues."
In April of 1912 George sold special edition newspapers (printed by Hearst)
in an effort to raise money for the families of those who were lost on the
Titanic. After appearing in a revival of 45 Minutes From Broadway, he
co-starred with his mother and father. At the beginning of the show's run, it was
announced that this would be the farewell appearance of Jerry and Helen who
wanted to retire and quietly enjoy their later years together. George seconded
the motion. He announced to the disbelief of the Broadway world, that he too
was calling it quits as a performer. He would still continue to write, and produce,
but he was finished as a performer.
The team of Cohan & Harris were receiving more play manuscripts each
succeeding year. They had their pick of the best new authors, and also the best
actors. Douglas Fairbanks appeared in "Hawthorne Of The USA" (1912)
before he made his fortune in Hollywood. Raymond Hitchcock gladly returned
in "The Red WIdow" (1912), and Wallace Eddinger appeared in "The Aviator"
(1910), "Officer 666" (1912), Cohan's greatest mystery play,
"Seven Keys
To Baldpate"
(1913) and the long running "It Pays To Advertise."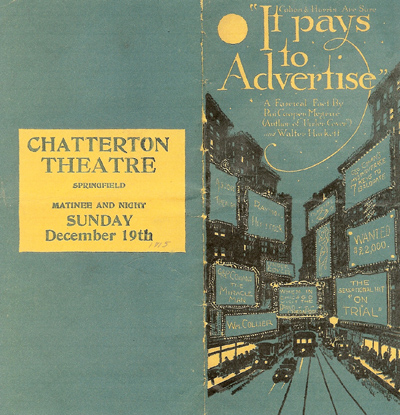 Program cover for "It Pays To Advertise" which is perhaps
where Warner Brothers got the idea for the marquee scene
in "Yankee Doodle Dandy."
The following year provided George M. with great joy. Agnes gave birth to
a son they named, George M. Cohan Jr. He would be the last child to come
into George and Agnes' life (Agnes suffered greatly during childbirth, which
caused her to be confined for most of her future).
That fall, Cohan wrote his first drama based on a con man passing himself off
as a faith healer. "The Miracle Man" starred Frank Bacon and Percy Helton,
but the film version (1919) with Lon Chaney proved to be more popular. Cohan
next went back to what he knew best, musicals & comedies.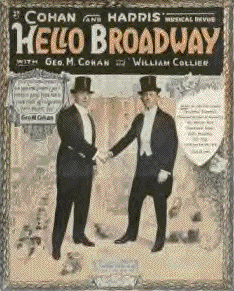 Sheet Music Cover with
William Collier
Later that year, after being prodded by William Collier at a Friars club meeting,
George returned to performing in a musical comedy, after a retirement of
10 months. "Hello Broadway" debuted on Broadway on Christmas night, and
all of New York stepped out to welcome George back (it was more review than
musical comedy - much in the Weber & Fields tradition).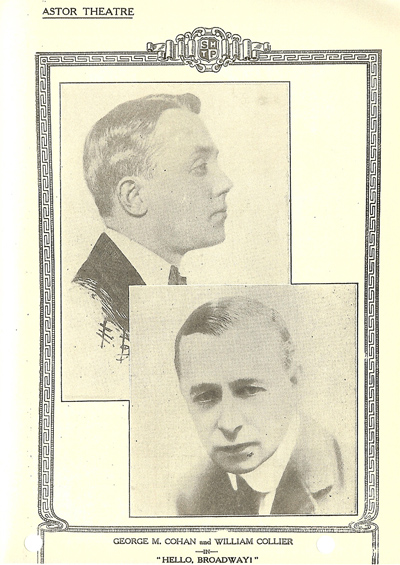 Cohan assembled a fine cast consisting of Collier, Peggy Wood, Rozsika
Dolly, Sidney Jarvis, and Lawrence Wheat. The current hit Broadway shows
were lampooned by Cohan and company, with a standout performance
was by Louise Dressler (not to be confused with Marie) when she sang
"Down By The Erie." The success of "Hello Broadway" spawned two
more revue style musicals from Cohan, "The Cohan Revue of 1916,"
and "The Cohan Revue of 1918."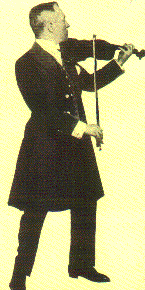 Cohan fiddles once
again in 1914's
"Hello Broadway"
The next year saw George cast his brother-in law, Fred Niblo in the leading role
of "Hit The Trail Holliday," a bartender that turns into a proselytizer for prohibition.
The character was loosely based on evangelist, Billy Sunday.
But nothing could have prepared Cohan for the next three years. They would be
his most turbulent years and would scar him through his final years. It began
with the death of is sister, Josie. Only a few months earlier, Josie and her
family had returned from Australia. On July 12, 1916, at the age of 40, Josie
died from complications due to heart disease. She was survived by her
husband Fred, and their 13 year old son, Fred Jr. The Four Cohans were gone
forever.
In 1916 George moved his family to a new home in Great Neck, NY. The Long
Island estate has since become an official landmark
At the beginning of 1917 George tried something different, he made his first
motion picture in Astoria, Queens. "Broadway Jones" was released nationally
on March 26, and later that year it was followed by the first film version of "Seven
Keys To Baldpate." However, Cohan didn't enjoy the filmmaking process. He
disliked filming out of sequence (a fundamental matter of economy in filmmaking),
and preferred much more, the sequence order of story-telling on the stage.
Cohan would only appear in one more film until the 1930's - "Hit The Trail
Holliday," in June of 1918.
By April, the drums of war that were resounding around the world struck America.
The European communities were already at war amongst themselves when a
German u-boat sunk the passenger ship, the Lusitania. That brought America
into the war. On board the Lusitania were such notable Americans as Charles
Frohman. America quickly became furious, and President Woodrow Wilson
(who for years debated to keep the US out of war) no longer had any choice.
George M. wanted to do something for his country. Since he was too old to join
the military service (38), he contributed what he did best. He wrote a song and
dedicated it to "our boys." "Over There" has been credited as the greatest
war song ever written, and it is certainly one of Cohan's greatest songs. "Over
There" provided a battle cry for the naive, young, faces who were going to
go over there, and clean up the mess in a week (America was involved in
World War I for a little over a year and a half).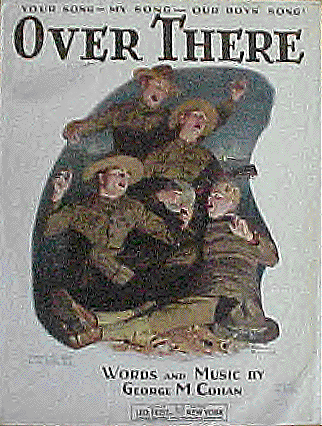 One of the 4 different original sheet music covers
As the war in Europe was calling for more and more of US soldiers, and George
M. Cohan was still at the top of the Broadway game, he suffered perhaps the
most severe loss of his life. On August 1, 1917, his father, Jerry Cohan, died of
arteriosclerosis at the age of 69. The grief brought on by his father's passing
was too much for the middle aged Cohan to bear. He later admitted that
immediately after his father's passing was "the only period of hard sustained
drinking in all my life." He barely had time to recover from the deep pain of
Josie's passing, and now came his father's death. George was always very
close to his father, and their relationship never wavered.
In a monthly publication of The Friars Club, Ashton Stevens recalled the
relationship between George & Jerry.
"...but the old gentlemen kept on thinking that the greatest gift in the world was
the opportunity to do a good night's work in the playhouse.
George knew. When Jerry J. forgot to talk about his next part in the next
production, George knew the end was near.
...They never thought they were doing anything irregular or unprofessional when
they dressed together - and along with George Parsons, too - in the cellar
chorus room, of Cohan's Grand, while the ladies of the "Broadway Jones"
company occupied the convenient and comfortable dressing rooms on and
above the stage."
America was conscientious about the disillusionment and despair of their
soldiers in Europe. While the Americans were helping to defeat Germany,
the loss of life, and spread of disease were beginning to erode the moral of
the young soldiers. Broadway got involved in an attempt to boost morale. The
most ambitious of these programs, was one that starred Laurette Taylor, and
was written by her husband, J. Hartly Manners, entitled "Out There." The play,
whose cast also included Joan Fontanne, was created as a benefit for the
Red Cross. For one week, and a subsequent three week tour, an all-star cast
was procured. George M., George Arliss, & Minnie Maddern Fiske, joined
Laurette Taylor in an extraordinary drive for the Red Cross. Minnie Maddern
Fiske delivered a pledge drive speech inbetween acts that was especially
written by President Wilson. Each actor appeared without compensation,
and paid for their own traveling expenses. In the one month, they raised nearly
$700,000 - a huge fortune in 1918.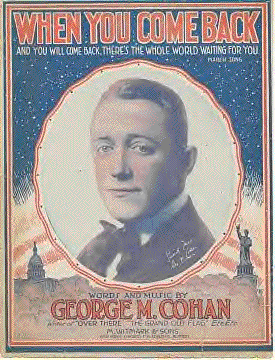 Another song written for the soldiers of
World War I
With the close of World War I, audiences flocked to the theater for escape from
the tragedy of war. Cohan decidedly presented a pre-war comedy called, "A
Prince There Was" (1918) playing the lead role, himself.
George decided to take a break, and travel by car to San Francisco. He got as
far as New Haven, CT, when something told him to stop and call Sam Harris to
be certain things were all right. It was then that he got the news. Almost all of
Broadway was shut down. The actors, in association with Actor's Equity, had
called for a strike.
On August 7, 1919 just before the new theatrical season began, Actor's Equity
staged a walkout and a dozen shows, including "The Royal Vagabond" were
shut down. One by one, the others followed suit, and in a very short time,
Broadway went dark.
George M. Cohan was furious. Even actors that he considered friends and
trusted, like Grant Mitchell, walked out on the cast of "A Prince There Was"
in Chicago. He viewed actions like this as a personal insult, and when "The
Royal Vagabond" closed, he became determined to fight the strike. The
theatrical firm of Cohan & Harris had a reputation for treating their actors well.
They were well paid (including rehearsals), and Cohan & Harris' word was their
bond. Cohan certainly knew about the abuses that the acting profession had
tolerated for many years. The fact that they wanted to put an end to these
abuses was easy for him to understand, and he stood behind that. But, that
they would include Cohan & Harris amongst the others who committed these
atrocities against the actor, that he wouldn't (nor could he), stand for.
Oddly enough, the newspapers sided with George M. The concept of unionism
wasn't nearly as popular, in the first part of the 20th Century, as it is today. Most
people viewed it (along with communism) as something anti-American. But actors
were a different breed. Even the big stars like Ethel Barrymore, and Eddie Cantor
who were always treated with respect by their respective producers (Charles
Frohman & Flo Ziegfeld) felt compelled to walk out and join Actor's Equity. It was
time for the world of the theater to change, and not even it's crowned emperor,
George M. Cohan, could stop it.
At first the producers didn't take the strike seriously. They figured that the actors,
were throwing the equivalent of a temper tantrum, and would soon come crawling
back to work. But the actors were serious, and they didn't give in on their
demands. They fought for paid rehearsals, guarantees of payment when they were
out on the road, a play or pay clause during the Christmas Holiday.
Both leading players, and members of the chorus banded together, and
demanded the issues be met. It was a coming together of scattered performers
that put the real scare in the producers. Some stars like Minnie Maddern Fiske,
also opposed Equity. Of anyone, she had the most to gain from a union because
of the years she was blackballed by the Theatrical Trust (due to her husband's
magazine, "The Dramatic Mirror," posted a bad review of one of Abe Erlanger's
shows). The two sides developed a deep hatred for one another, but the issue
of Equity put them on the same side.
A small group of actors quickly formed the Actor's Fidelity League. The express
intent of the organization was to offer a medium between the Producers and the
Actor. Such prominent actors like Minnie Maddern Fiske, William Collier, E. H.
Sothern, David Warfield, Fay Bainter, and Otis Skinner, joined Cohan in the
Fidelity League. Cohan pledged $100,000 to the League's treasury, but it was
returned (Cohan was management at the time, and it would have a reverse effect
upon getting actors to join if they thought management funded the League).
Equity bitterly opposed the League.
Meanwhile, picket lines around Broadway began singing "Over Fair" (a parody
of Cohan's "Over There"). Cohan truly felt betrayed by the actors and reckoned
them as nothing more than an angry mob. Cohan publicly stated that if Equity
won the battle, he would quit the theater and run an elevator for a living. Eddie
Cantor publicly replied, "Somebody better tell Mr. Cohan that to run an elevator
he'd have to join a union."
When hostilities grew around him, he resigned from the Friars, Lambs, and
Players Club, and withdrew from the theatrical society he loved.
Max Eastman, then a reporter for "The Liberator" magazine, summed up Cohan's
position.
"One sincere thing about him is his indignation. He is stung and hurt and angry
and a little painfully bewildered to find himself in so unpopular a position. It is
because he really had idealism and a kind of philosophy of life. It was the
philosophy of generosity and that mode of life - likeable as it may be - always
breaks down completely when it comes to a conflict between economic classes.
Friendships are disrupted, gratitude's are forgotten, generosity is rejected -
everything gives way to the formation of a clear line of conflict between the
workers who produce the goods and the capitalists who take the profits. And
George Cohan will have to readjust his whole philosophy of life completely -
so completely that he can realize that actors who owe him gratitude for
individual assistance, are right in fighting against him."
Meanwhile, at the Hippodrome on 43rd Street and Sixth Avenue, the 412
stagehands that ran the enormous show, staged a sympathy walk out. This
was the final blow to The Producer's Management Association, and on
September 6, they signed a binding contract with Actor's Equity.
Cohan again felt betrayed, this time by the producers, and resigned almost
immediately from the PMA. The negative impact of the Equity conflict would
effect George M. for the remaining twenty two years of his life. He would never
join Actor's Equity, and yet he still would produce and star his own plays. He
would often joke that he "was the only scab on Broadway," and indeed he was the
exception to the rule. Whenever he appeared with or hired Equity actors, it was
always by special arrangement.