George M. Cohan In America's Theater
|
home





Broadway Jones
Opened: September 23, 1912
Cohan Theater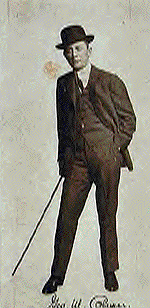 Original Cast:
Jackson Jones...............................George M. Cohan
Robert Wallace...............................George Parsons
Mrs. Spotswood..............................Helen F. Cohan
Judge Spotswood..........................Jerry J. Cohan
Clara Spotswood............................Mary Murphy
Josie Richards................................Edith Luckett
Higgins............................................John Fenton
Henry Hopper..................................George Michaels
Grover Wallace................................Fletcher Harvey
Sam Spotswood.............................Daniel Burns
Synopsis:
Broadway playboy, Jackson Jones, inherits his uncle's gum factory in rural
Jonesville. He arrives at the factory, with the intention of selling it, when he
becomes convinced by a secretary that the sale would be devestating to
the economy of Jonesville. Jones ultimately elects to keep things the way
they were, and in the process, gets the girl.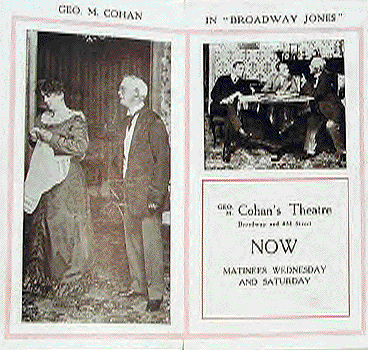 Critic's Corner:
"The popularity of Mr. Cohan was never better exemplified locally than was the case
last evening. Every seat in the theater was occupied and standing room was in
demand. The enthusiasm which manifested itself at the outcome increased until the
climax was reached at the end of the third act, when the uproar reached such
proportions as to drown out the efforts of the orchestra, and compelled the
author-actor to respond to the applause with a brief but strictly Cohanesque
acknowledgment of the reception accorded."
Len G. Shaw, The Detroit Free Press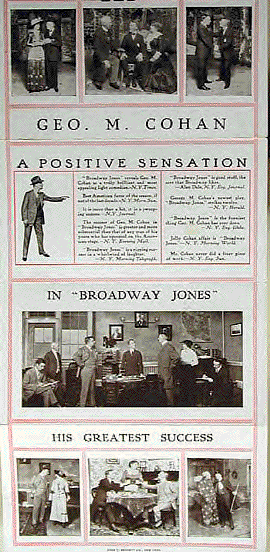 Cohan's Recollection:
"You bet your life I'm going to retire as an actor. I'll finish out this season and then
twenty weeks of "Broadway Jones" next season and that is positively the last of
me on the stage. I've got my theaters, my plays, and I can write more, but no more
acting. I'm going to raise my family. What more do I want? I've done everything
on the stage from circus performer to musical comedy singer and melodramatic
actor. I'm almost thirty-five now and I've spent more time on the stage than
ninety-nine percent of the actors. I've been on it since I was seven. Of course, I'll
continue as a member of the firm of Cohan & Harris and when the spirit moves me
I will write a play or a musical comedy, but it will be a diversion. My father and
mother are going to retire with me and spend the balance of their lives at their
country place near Monroe, Orange County."
"I'm tired of the grind of acting. I'm sincere in saying I never expect to play
Broadway again. We're now closing at the Cohan and next week we play at the
Grand Opera House and then we're going to try Providence again en route to
Chicago. Next season I will appear in some of the larger cities with this play and
after that tour it will be goodbye forever. I'm going to buy a farm and settle down
and some day, if I'm lucky, maybe I will put over a real American comedy. That
is the ambition of my life, to write an American play that will live...And I want to
get around, I want to travel. I've trouped a lot with Josie and mother and dad,
but I've really seen very little of the world. My sister and my brother-in-law,
Fred Niblo, are now in Australia, where they've been playing "Get Rich Quick
Wallingford." Just got a letter from Fred the other day. He wants my wife and
me to take a little trip and join them in East Africa - and maybe we will. Yes,
I'm quitting. I've made $3,000,000 and I've got enough. We're about even,
Broadway and I. I've made a lot of money out of it but I've at least returned it
as much in fame, haven't I?"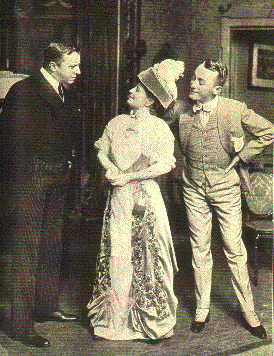 George M. in a scene from
"Broadway Jones"
Notes:
The run of "Broadway Jones" would be the last performances by Jerry & Nellie Cohan.
After so many years in vaudeville and the theater, the two decided that George should
go it alone. George M. himself even announced his retirement from performing,
claiming that his business of writing and managing theaters was becoming his new
full time work. On January 31, 1914, on the occasion of Jerry Cohan's sixty-sixth
birthday, George gave him a gift he would never forget. Jerry now owned 50% of
everything in his son's enterprise - present and to come. Later Nellie remarked,
"Jerry could never read that letter even halfway through without breaking into tears.
He always said it was more than a gift, it was a blessing to have a son like that."
Jerry and Nellie permanently retired. But George's retirement lasted ten months
until he teamed up with William Collier in "Hello Broadway." Thereafter he continued
to appear in an additional 16 plays until 1940's "Return Of The Vagabond." His
retirement announcement stunned the Broadway world, but most knew better than to
believe his words. He would announce his retirement many more times throughout
his career, and each time it took little encouragement to bring him back.
This was George M.'s first success with a completely original straight comedy. His
first, Popularity, was his first flop on Broadway. "Broadway Jones" inspired Cohan
to continue writing non-musicals.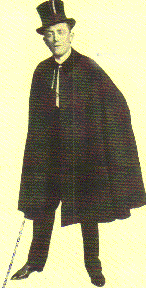 Cohan as Jackson Jones