George M. Cohan In America's Theater
|
home




Broadway Legend: 1930-1978

As 1930 began, George M. Cohan's career seemed to be over. He tried to jump-
start it by reviving "The Tavern" & "The Song & Dance Man" for a brief run on
Broadway and subsequent tour, which proved to have some success. When he
returned to Broadway, his first play of the new decade, Friendship (1931), costarred
himself with his daughter, Helen. It lasted only 3 weeks on Broadway. Richard
Lockridge, critic for the New York Sun, summed up Cohan's play writing problems
(of recent years) in his review of "Friendship:"
"Mr. Cohan is infinitely more ingratiating as an actor than as a playwright...His
unabashed special pleading, his refusal to permit his antagonists even the most
obvious of rejoinders, his discrimination to portray one grain of good sense in
any character under fifty - these things help neither his argument nor his play."
By 1931, George M. moved into an apartment at 993 5th Ave. It was at this
address that he used to meet with theater critic, Ward Morehouse who would
later write his biography, and where he would spend his final days.
In need of a vehicle to give some vitality to his fledging career, Cohan agreed to
a proposition by an old friend, Jesse Lasky (a high ranking executive at
Paramount) and appear in a musical film. With contract signed, Cohan left for
Hollywood, ready to work the minute he set foot in California. When he arrived,
he was told that the production was postponed due to an internal upheaval
within the front office. When the dust at Paramount had finally settled, Jesse
Lasky was gone, and George M. Cohan was at the mercy of studio executives
that had no idea of what to do with him.
proved to him that film making was not something he wanted to pursue. Richard
Rodgers and Lorenz Hart were brought in to score the music, and it was far from
their best work (possibly even their worst). Claudette Colbert was wasted in a
role that had no depth at all, Sidney Toler (famous for his Charlie Chan roles)
added a spark of humor that really went no where. Jimmy Durante was, well
JImmy Durante, and George M. Cohan played a duel role. One, was that of a
presidential hopeful with an especially dull personality, and the other was his
alter ego, a medicine show man named, Dr. Varney.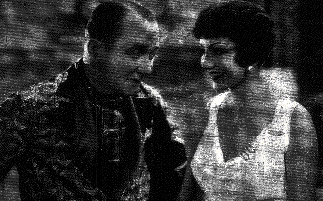 "The Phantom President" (1932)
with Claudette Colbert
There were two highlights in the movie. 1) A quick entrance by Cohan where he
greets his presidential double with a dance routine, and 2) when he performed
"Maybe Someone Ought To Wave The Flag." However, even when they had
Cohan in front of the camera doing his song and dance routine, the director
(or one of the executives) made the decision to put him in blackface. Perhaps
the film was heavily edited down from its original script (it has that feeling
about it).
The good news about "The Phantom President" is that we get a glimpse of Cohan
performing a song and dance routine. The bad news is that the song itself is a
disappointment, and that Cohan appears in blackface (something he was never
known for, and in all his appearances in the legitimate theater didn't do). "The
Phantom President" might have had potential, with the right script and music,
but now all that remains is a botched job.
When Cohan returned to New York, he commented on the experience to Ward
Morehouse his feelings about the film industry.
"Those fellows didn't know anything about me. Lot of them had never heard of
me and didn't care to be told. They treated me like a man from another world.
On the level, kid, Hollywood to me represents the most amazing exhibition of
incompetence and ego that you can find anywhere in the civilized world. From
all I could make out the only people with any sense are the technical boys and
the camera men. Those camera men saved my life. When I left I thanked them
for a million laughs. I didn't say goodbye to any of the executives. Couldn't find
them. They were away on weekends..."
Back on Broadway, George M. tried to forget his Hollywood experience. He
created new lyrics to his song "Over There" in honor of the Democratic
Presidential Candidate for 1932, Franklin Delano Roosevelt.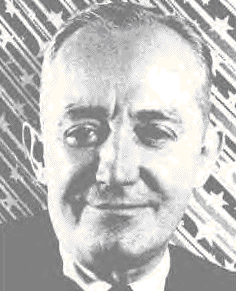 Cohan publicity photo (circa 1933)
A month or so later, he developed an idea he had called "Pigeons & People."
He knew he'd have to star himself in the play (in order to maximize the box office
receipts) but that didn't bother him. What bothered him was that he was now
being hailed as one of the finest actors in America yet, none of his shows in the
last few years, had gotten good reviews. "Pigeons and People" was a one act
play (something Cohan dreamed up as a gimmick) that lasted until 10:30. The
leading character, Parker (played by Cohan), is very reminiscent of the
Vagabond in "The Tavern."

As Parker in
"Pigeons & People"
"Pigeons and People" didn't achieve what Cohan was hoping for, but shorty
afterwards he was made an offer he couldn't refuse, and didn't:
"Ah Wilderness."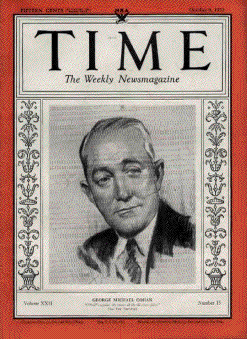 Cohan on the cover of Time - 1933
With the success of Ah, Wilderness! Cohan was back on top. Not in the way
he was accustomed to, (he had only starred in the play) but back on top
nonetheless. In 1935, he was asked by the Players Club to revive his most
popular, and enduring show, "Seven Keys To Baldpate." Cohan happily
accepted.
His next show, "Dear Old Darling" opened on March 2, 1936. Critics again sang
the praises for Cohan's acting, but condemnation of his play, and the theater -
goers seemed to care for neither one. The first week's box office yielded only
$8,000. Cohan advised his staff, "If they don't like it, we'll take it off," which
he did. The show lasted only two weeks which caused considerable frustration
and depression for Cohan.
Soon afterward, his daughter Mary divorced Neil Litt, and returned to the
Cohan household in Monroe, NY.
Amid the dismal times after "Dear Old Darling," Cohan received notice from
Congress that he had been awarded a Gold Medal of Honor, for his writing
of 'You're A Grand Old Flag," and "Over There." This medal, awarded to
Cohan on June 29, is not to be confused with the Congressional Medal
of Honor which is awarded to soldiers for personal valor, but rather a
Congressional Medal of Honor for specified services. This was the first time
that Congress had awarded a medal for songwriting, and it puts into
perspective just how powerful and how inspirational Cohan's songs were to
America. All Cohan had to do was to pick up the award from FDR. By 1936
however, that sounded easier than it was. Cohan had come to loathe the
President four years after he dedicated "What A Man" to him. The Medal would
stay with Roosevelt for another four years. (Cohan probably figured that FDR
might not be reelected for a third term - in reality, if he waited much longer, he
wouldn't have received it at all)
After the show, or on any given evening, friends and admirers could discover
Cohan sitting in a corner of Trader Vic's Bar at the Plaza Hotel (59th Street
& Central Park West). There, he would tell his stories of the theater of forty or
fifty years ago, and comment on his confusion over the contemporary theater.
It is also the final resting place of his Congressional Gold Medal of Honor.
In the spring of 1936 George M. set out to discover land of his ancestry.
A friend recalled that the aged song & dance man was wide-eyed, and excited
to see the Emerald Isle. When he returned in time for his birthday, he celebrated
it with his family and Sam Harris. Sam had found an opportunity for the two of
them to work together once again. It was a script by a radio comedian named
Parker Fennelly called "Fulton Of Oak Falls." All parties realized that the script
needed a great deal of "Cohanizing" - which it got.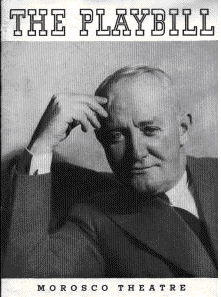 Playbill for "Fulton Of Oak Falls"
Broadway was all a buzz about the reunion of Cohan & Harris. However, the
union lasted for only 37 performances. "Fulton Of Oak Falls" was yet another
disappointment. In 1937 George M. set sail once again for Europe. He had
an idea of trying his hand at the London stage. Agnes set sail with him, and
the two were enjoying Europe when Cohan got a sudden call from Sam Harris
to return to New York. Sam had a part for him in his new production that no other
actor could do. The role was Franklin Delano Roosevelt, and the play was
"I'd
With the success of "I'd Rather Be Right" Cohan found himself apart of many
different social functions and dinners. One of these "The Catholic Actor's Guild
Dinner" was recorded and Cohan's acceptance speech can still be heard. He
begins by stating that the ceremony "is as much a tribute to my father, than
anything else." Jerry J. Cohan was one of the founding member of The Catholic
Actor's Guild.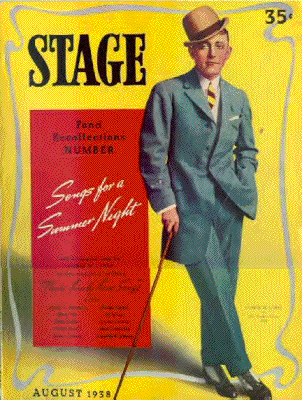 With the success of "I'd Rather Be Right"
George M. Cohan continued to be an icon
of his profession.
After touring the country with "I'd Rather Be Right" Cohan brought Agnes (who's
health had been declining) to their home in Monroe, NY.
There was some talk that had been circulating about a play being written,
based on George M.'s life's story. Later in 1939, "Yankee Doodle Boy" by Walter
Kerr (theater critic and playwright), debuted at the Catholic University's Harlequin
Club in Washington DC . The program (under direct consultation of George M.)
had very little to do with the facts of his life, and was basically a revue for his
music. Only a month earlier, in November 1939, Cohan had opened a show
entitled, "Madam, Will You Walk?" written by Sidney Howard, and produced by
Robert Sherwood. Sherwood insisted that the role he had Cohan in mind for
was a lot like the Vagabond of "The Tavern." That intrigued Cohan. Sherwood
also assured him that he felt no other actor on the stage could do it. But, Cohan
didn't feel completely comfortable cast in the role of a suave Lucifer, and in
Baltimore, after a few performances, the theater critics agreed. It was enough for
Cohan to quit the show and return to New York.
On March 6, 1940, Mary Cohan eloped for a second time. This time to an accordian
player named, George Ronkin. The act of the elopment hurt him deeply.
Later in the spring of 1940, Cohan put aside his feelings about President Roosevelt,
and made the journey to the White House, where he was presented with his
Gold Medal Of Honor.
George M. Cohan had become tired of appearing in plays written by others and
the following year, saw his last performance/writing efforts on a Broadway
stage. "The Return Of The Vagabond" (1940) was Cohan's sequel to his favorite
play "The Tavern." In it, a young performer named Celeste Holm got her first
Broadway break. However, it soon proved to be a dismal failure, and
the show lasted only one week. At the close of the final performance, George M.
confided to Celeste Holm, "I'll never come to New York again. They don't want me
any more."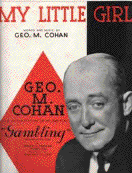 Sheet Music Cover
From the 1934 Film
"Gambling"
Even as the truth of his professional career daunted him, George M. couldn't
quit the business that had been a part of him all his life. At the close of 1940,
he began developing an idea for a musical comedy entitled, "The Musical
Comedy Man," with a lead/title character that closely resembled himself.
In July of the following year, his long-time partner, and best friend, Sam Harris
died as a result of intestinal cancer. Shortly after, George M. was also
diagnosed with the same illness. In mid-October of 1941, Cohan suffered
severe abdominal pain. He was quickly taken to the hospital for an emergency
operation that saved his life. He moved in with Agnes and the children to "get
some rest and catch some sunlight."
Earlier that summer, Cohan secured a deal with Warner Brothers to tell his life
story on the screen. It now became his main goal. Writer, Robert Buckner had
the task of satisfying Cohan's desires of the content of the script. It was to have
certain boundaries which were not to be crossed. Cohan didn't want very much
of his personal life portrayed in the movie (much like Kerr's "Yankee Doodle Boy").
There would be no mention of Ethel Levey, or the 1919 Actor's Equity Strike.
Likewise, none of his children were mentioned, and the love interest that was
supposed to represent Agnes, was given the name Mary. Back and forth Buckner
and Cohan went as they hammered out draft after draft. Warner Bros. meanwhile,
had the foresight of casting James Cagney as Cohan. Cagney was a performer
whose kinetic energy and dynamics matched Cohan's and his acronym of
success on the stage ("Speed, speed, and lots of it"). Cagney had only seen
George M. perform in "Ah, Wilderness!," so he studied very closely Cohan's
dancing in "The Phantom President" (where you see Cohan doing a few of the
steps later duplicated by Cagney). Cagney also worked very closely with
choreographer, Johnny Boyle, who was in the chorus of "Cohan's Revue of 1916."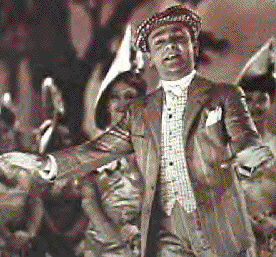 James Cagney sings "The Yankee Doodle Boy"
However, much of the dancing is Cagney's own style. His dancing in the "Give
My Regards To Broadway" sequence was unique to Cohan, while the performance
of "Off The Record" was very similar to George M.'s style. Likewise, the set
design for many of the musical sequences depicts so perfectly the original
(i.e. see
flyer
from "I'd Rather Be Right").
Shooting began during the final months of 1941 and beginning of 1942, and
soon a rough cut was sent to the ailing Cohan in Monroe, NY for his approval.
Cohan sat there and watched silently. After the film had come to a close, the
lights went up, Cohan shook his head in acceptance and said, "My God, what an
act to follow."
James Cagney was brilliant in the role. He portrayed Cohan without imitating him,
and won an Academy Award for Best Actor.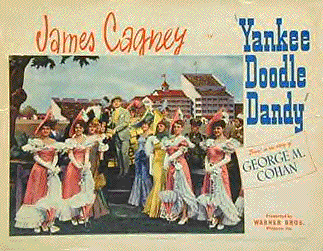 Original Lobby Card from the film
As "Yankee Doodle Dandy" was preparing for release, Cohan's health continued
to decline. On January 2, Cohan had a second abdominal operation - the
cancer had spread. Now, he knew he hadn't much time left, and wanted to visit
New York once again. On his return to 993 Fifth Ave., Cohan confided to close
friends that his end was near, but he kept the severity of his illness from his family.
Throughout his illness he worked on "The Musical Comedy Man."
In late summer of 1942, and against the better judgment of his nurse, Cohan got
into a cab, and took a final look at his beloved city. The cab drove down to Union
Square, where the Four Cohans first New York appearance took place. Then,
back uptown to 43rd Street where the Cohan Theater had once stood, and then
up and down the various streets of the Broadway district to see his memories
once again. The final stop was at the Hollywood Theater where he caught a few
minutes of "Yankee Doodle Dandy."
For the rest of that summer and fall George M. Cohan was quite ill. He became
confined to his apartment at 993 Fifth Ave. During this time, he was visited by
his children, and each made amends with their father. The end came on
November 5, 1942. Shortly before, his close friend Gene Buck had reminded
him of his accomplishments. Cohan grinned and added, "No complaints kid, no
complaints." He was read his last rites by Monsignor John J. Casy, and Father
Francis X. Shea. Then, just before he slipped into a coma he asked Buck to
"Look after Agnes." They were his last words.
At his funeral in St. Patrick's Cathedral, the organ played "Over There" softly to
its attendees. His body was then taken to the family plot at Woodlawn Cemetery
in the Bronx, and there he joined the other three Cohans.
The following year, theater critic and friend Ward Morehouse's biography of Cohan,
"George M. Cohan, Prince Of The American Theater," was published.
Fifteen years later, a statue of George M. Cohan was erected at 46th Street in
Times Square. Oscar Hammerstein II (long time songwriting partner of Richard
Rodgers) led the committee to bring the event about. In an article in the New York
Times commemorating the unveiling of the statue, Hammerstein wrote: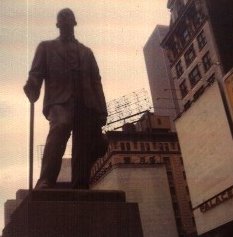 Cohan's statue in Times Square
"Never was a plant more indigenous to a particular part of the earth than was
George M. Cohan to the United States of his day. The whole nation was confident
of its superiority, its moral virtue, its happy isolation from the intrigues of the old
country, from which our fathers and grand fathers had migrated."
The $58,000 fund was made from various contributions of prominent people in
the theater.
It seemed that George M. Cohan's story was still as popular as ever in the late
50's and early 60's. All together, three different versions of his life (two on television,
one on the Broadway stage) were made. The best of which was Broadway's
"George M!" with the charismatic Joel Grey (fresh from Cabaret) and a young girl
who would remain in the theater for many years, Bernadette Peters. Mary Cohan
was brought on to make some lyric and musical revisions (example: the song
"My Town" in "George M!" was originally "I'm A One Man Girl" from Cohan's
"Billie"). "George M!" gives the best example of Cohan's musical compositions.
All together, over twenty-five different songs are performed, and the variety of
music is even better than "Yankee Doodle Dandy's."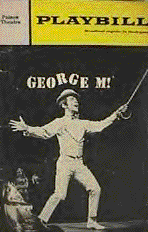 During the early 1970's The American Guild Of Variety Artists began televising
an annual award ceremony. Their award was a statue of George M. Cohan, and
the award was called the "Georgie."
In 1973 John McCabe's book "George M. Cohan - The Man Who Owned
Broadway" was published. McCabe has gathered many first hand accounts of
Cohan that have since vanished from our midst. It is to date, the best biography
on Cohan.
By 1978 Cohan's popularity was well over. Yet, on the centennial celebration of
his birth, the US Post Office released a stamp in his honor. This was one of the
first of many stamps to honor members of America's performing arts.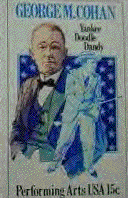 The family of George M. Cohan is equally as elusive as many facts in George M.
Cohan's private life. Agnes Cohan lived to the age of 89. She always would sing
along whenever "Yankee Doodle Dandy" came on television during the 1960's.
She passed away on September 9, 1972.
Georgette, Mary, Helen, and George Jr. virtually disappeared (with the exception
of Mary's work for "George M!"). During the 1950's George Jr. re-recorded a few
of his father's songs but nothing else was ever heard of him. Helen is reported
to have passed away on Sept. 14, 1996. But, no other information is available on
any of George M. Cohan's off-spring.
George M. Cohan's private life remains private. He guarded it well, and as the
years roll on, his personal matters drift further away. As for his work, some of it
still survives, his music is still heard, his name occasionally, and the play "George
M!" still is alive in regional theater. And, television occasionally plays "Yankee
Doodle Dandy" - it's subsequent Home Video releases (for almost 20 years)
has never gone out of print. But unfortunately, neither one was able to capture
Cohan's real story.
"And so he snuck off, all alone and by himself, and noboby didn't see him
no more."
- Peck's Bad Boy