George M. Cohan In America's Theater



Welcome to a tribute to the American Theater's first mega star!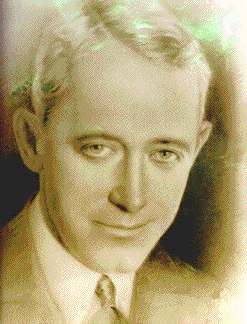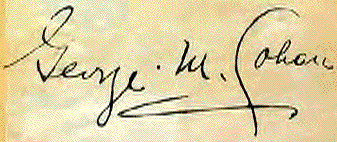 Click here
for a great musical tribute and to find out what's new!
January 1, 2006 marks the 100th
anniversary of
"Forty-Five Minutes From Broadway"
We've also passed the 100th
anniversary of
"George Washington Jr.,"
February 12, 2006
Welcome to the first site dedicated exclusively to the American Theater's
first mega-star: George M. Cohan. George M. Cohan's accomplishments
helped to catapult the American musical and comedy on the New York stage,
(its subsequent style can also be witnessed in early Hollywood talkies) and is
at the root of our contemporary theater.
However, the real George M. Cohan has become increasingly lost with the passing
of time. For some, the name George M. Cohan conjures up images of James
Cagney singing and dancing his way to an Oscar in "Yankee Doodle Dandy."
Still others, associate him only with the patriotic songs that decorated his long career
as a songwriter. Yet others, only think of him as an embittered fighter of unionism,
and his own professon...the theater. And, there are a growing number that have never
heard of him at all.
It is the purpose of this site to give tribute to and document the life of George M. Cohan.
To present little known facts about his life and work in America's Theater, attempting
to coordinate as many stray bits of information as possible, and view this celebrity as
he was.
Some of the many features of this site is that it will present a complete
stageography, and filmography. Additionally, there is an on going discography
(a complete one is not in existence) that will be added to spiratically.
There are also five pages that represent a brief biography (each page
being represenative a specific era or decade). While these pages are far
from portraying the complete story (much of Cohan's life and/or facts about his
private life still remain a mystery), they are meant to give the reader a basic
understanding of Cohan's life.
And, for the first time anywhere, there are 14 different pages devoted
exclusively to some of the major productions in Cohan's prolific career.
Cohan's original shows have become legendary in America's theater
history, however their details have been scattered through the years.
Therefore, I have dedicated a complete page to fourteen, key Broadway
productions that have helped to shape the career of George M. Cohan.
They are broken down into six different subsections: Original Cast,
Synopsis, Songs From The Show, Critic's Corner, Cohan's Recollection,
and Notes. I have attempted to visually represent each show as
authentically as possible, with original sheet music covers and stills. There
are notations as to which songs Cohan himself performed, along with a
complete listing of the musical score. Also, in an effort to understand not
just the plot, but also its original performers, I have included both favorable and
unfavorable reviews. They are invaluable, first-hand accounts of early
performances, which help to shed some light on the entire production. It is my
hope that when viewing them, a sense of these shows might be rediscovered.
I am also available for consulting and guest speaking. Please inquire via
PLEASE NOTE:
All photographs and illustrations on this site
are believed to be in public domain, most of
which, are from my own private, personal
collection.
The text of this site was written and compiled by
David Collins. Quotations that appear on this
site are referenced, and believed to be available
for "fair use."
If any infringement of copyright has occured, please
contact me, and I will correct the situation
immediately.
- - - - - - - - - - - - - - - - - - - -