George M. Cohan In America's Theater
|
home





Ah, Wilderness!

Opened: October 2, 1933
The Guild Theater, NYC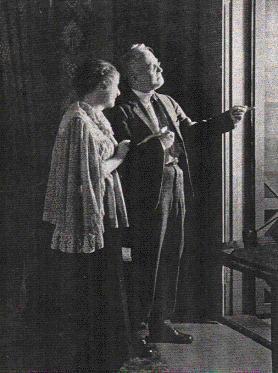 George M. Cohan with Edna Heinemann
in a scene from "Ah, Wilderness"
Original Cast:
Nat Miller...............................................George M. Cohan
Essie.....................................................Marjorie Marquis
Arthur.....................................................William Post Jr.
Richard..................................................Elisha Cook Jr.
Mildred..................................................Adelaide Bean
Sid Davis..............................................Gene Lockhart
Lily Miller...............................................Eda Heinemann
Muriel McComber................................Ruth Gilbert
Belle......................................................Ruth Holden
Nora......................................................Ruth Chorpenning
Synopsis:
It's July 4, 1906, and Richard Miller has just graduated from high school. As
head of the class, he decides to express his contempt for his small community
by writing a speech which denounces capitalism. His father, Nat, finds out
about the speech and saves his son from public embarrassment. As the
fireworks celebration begins, Richard gives his girlfriend, Muriel, poems of
love, which are discovered by her father, David. David destroys the letters
and forbids his daughter from seeing Richard. Distraught, Richard sneaks
into the local tavern and proceeds to get drunk with a prostitute named Belle.
She sends him home, and his Uncle Sid helps him to get sober. When his
father Nat finds out about Richard's tantrum, he is at first furious, but then
rationalizes his son's actions. He recalls how he felt as a young man, and the
way he perceived the world. As they sit together trying to work the situation
out, they discover the strong father and son bond that is between them, and it is
Richard that has awoken Nat's renewed passion for life.
Critic's Corner:
"O'Neill's play is the season's first dramatic exhibit of any critical importance...
a folk comedy of such truth and humor, such gentle and sympathetic
raillery and such imaginatively photographic character that it must be given
sound rank in the list of O'Neill accomplishments...a rattling good show."
George Jean Nathan, Judge Magazine
"It is George M. Cohan the artist who acts in the O'Neill play, giving what is
surely the richest performance of his long career...a cast that does full justice
to O'Neill in his new mood of retrospection."
Richard Dana Skinner, The Commonwealth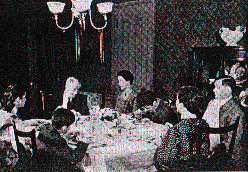 Cohan at the head of the table in
"Ah, Wilderness!"
"...in the evening to see E. O'Neill's 'Ah, Wilderness!' which I liked and enjoyed
better than any other O'Neill play ever I saw, and as well as any other play I ever
saw, it being full of tenderness and humor and some of the heart-breakingest
scenes that I ever saw, and more than that, all parts acted so perfectly that even
a less poignant play might have seemed good. I have never seen Mr. Cohan so
good, and nobody else has either."
F. P. A. The Coning Tower, Herald Tribune
"I think it is inspiringly to the credit of New York's playgoers and the New York
drama critics that they have risen to this fine, simple, American family comedy...
inspiringly to the credit of Eugene O'Neill that he felt the urge to write it and to
the Theater Guild...that it had the foresightedness and courage to produce it."
Burns Mantle, Daily News
"Cohan triumphs at the Guild Theater in O'Neill's hit. When the first actor of our
stage and the first playwright of the land merge their respective genius and
talents the playgoer is sure to benefit thereby. It was and eventful night in the
theater - thanks to the Guild, Mr. O'Neill, and Mr. Cohan. The charm of it, the
tenderness and the comfort that it offers, a blending so lovely and so compelling
that one of us, unaccustomed to such an abundance of delight at one time,
left the playhouse filled to the throat, so deeply does the new play impress. By
all means, go and live a little again."
Walter Winchell, Mirror

as Nat Miller
Cohan's Recollection:
"I went on home, and wasn't sure if the deal (his contractual terms) was off or on
but after an hour and a half I got a telegram and everything was all set. I realized
then that I was going to have an experience that would be new for me in the
theater - certainly for the first time since I was a kid. Speaking lines written by
somebody else. But I had been admiring O'Neill ever since his "Beyond The
Horizon" and knew he was the real stuff of the theater, being he was the son of
the grand old trouper, James O'Neill."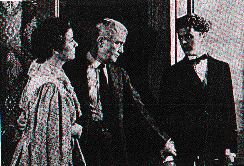 Cohan with Elisha Cook Jr. and
Edna Heinemann in "Ah, Wilderness!"
Notes:
"Ah, Wilderness!" was the first time Cohan appeared on stage in a play written
by another author since 1917's "Out There" (a World War I benefit program).
O'Neill had touched Cohan's heart with his new play about a father and son's turmoil
set in 1906. In the role of Nat Miller, he saw the character of his own father, Jerry
(and he probably saw a lot of himself in Richard). It put George M. Cohan back
at the top of his Broadway game. His interpretation of Nat Miller won him honors
everywhere he appeared. One can only look back on the reviews and wonder
why M-G-M didn't have the foresight to insist on Cohan repeating his role in the
1935 film adaptation. Then again, Cohan had had enough of Hollywood.
However, it would have been a performance worth preserving.
The timing of Cohan's performances varied as the showed toured the country. He
would slow down, or drag out his performances the further he got away from New
York. He tailored each performance to maximize his abilities, and his gathered
wisdom from decades of performing.
Cohan found a good friend in veteran actor, Gene Lockhart. Often the two would
get together after the performance and talk about the old days of the theater
(They also became good drinking buddies). Lockhart is best known today for
his supporting roles in such classic films as "A Christmas Carol" (1938), "Abe
Lincoln In Illinois" (1940) where he gave an unforgettable performance as Steven
Douglas, "Meet John Doe" (1941), "The Sea Wolf" (1941), "The Devil & Daniel
Webster" (1941), "Going My Way" (1944), & "The MIracle On 34th Street"
(1947). His Broadway career started in 1917, and his film career included over
110 films, with his last being in 1957. Shortly afterward Lockhart passed away
at the age of 66. He was survived by his daughter June, who gained her fame
as Mrs. Robinson on TV's "Lost In Space."
Starrring in the role of Richard Miller was Elisha Cook who is most known for
the role of Wilmer in "The Maltese Falcon" (1941). "Ah, Wilderness!" was one
of his final roles on Broadway before he went to Hollywood where he appeared
in over 120 films.

Elisha Cook Jr.
at the time of
"Ah, Wilderness"
By 1933, Eugene O'Neill was the father of the American drama. He burst upon
the scene in 1919, and continued to dominate the American Theater until the
works of Tennessee Williams and Arthur Miller came along in the mid - late '40's.
O'Neill's fondness for Cohan dated back to the days of "The Yankee Prince,"
and he was very excited to have Cohan cast as Nat Miller.

Eugene O'Neill
"Ah, Wilderness" was made into a film twice (1935) with an all-star MGM cast,
and again in 1948 under the title of "Summer Holiday" with Mickey Rooney
and Walter Huston. In 1959 it was adapted into a musical entitled, " Take Me
Along." Produced by David Merrick, it starred Jackie Gleason, Walter Pidgeon,
Robert Morse, Una Merkle, and in the chorus a young Valerie Harper.