George M. Cohan In America's Theater
|
home





45 Minutes From Broadway
Opened January 1, 1906
The New Amsterdam Theater, NYC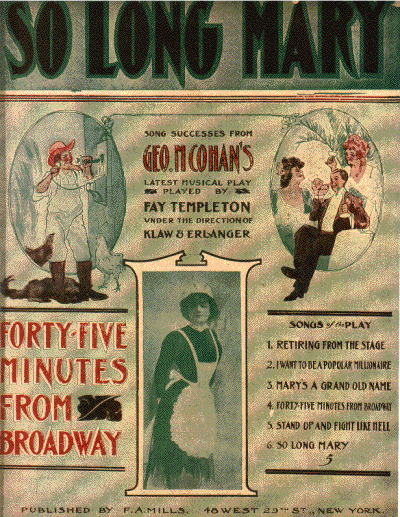 Fay Templeton (pictured) on one of the show's song hits
Original Cast:
Mary Jenkins.....................Fay Templeton
Kid Burns..........................Victor Moore
Tom Bennett......................Donald Brian
Floradora Dean................Emma Littlefield
Mrs. David Dean..............Julia Ralph
Daniel Krohman...............James H. Manning
Andy Gray..........................Louis Grisel
James Burke....................Charles Prince
Mrs. Purdy.........................Marion Singer
Synopsis:
Tom Bennett (Donald Brian) arrives in New Rochelle after his millionaire uncle
dies, presumably without leaving a will. Traveling with him is his wisecracking
secretary, Kid Burns (Victor Moore). Soon to arrive is his fiancee, the stage
actress, Floradora Dean (Emma Littlefield), accompanied by her mother,
Mrs. David Dean. Accidentally, Kid Burns discovers the will which states that
all of the millionaire's possessions are left to Mary Jenkins, (Fay Templeton)
who was the favored servant of the millionaire. He contemplates what to do.
Mrs. Dean, however, plots to have both Mary & Kid Burns discharged from
Tom's employ. When Daniel Krohman (a con man who is a friend of Mrs. Dean,
and who swindled Tom's millionaire uncle with phony mine stock) threatens
to reveal Mrs. Dean's identity unless she divulges the combination of Tom's
safe, she concedes. Krohman is caught trying to steal back the phony bonds,
and is soon apprehended in New York. With the police closing in on her, Mrs.
Dean and Floradora flee New Rochelle. Kid Burns confesses to Mary that he
has fallen in love with her, but can't marry a woman with that much money
(for fear of what others will say). He hands the will to the disbelieving Mary,
who reads it. Determinated to find happiness in her life, Mary tears
up the will.
Songs From The Show
Act I
Gentlemen Of The Press
I Want To Be A Popular Millionaire
Mary's A Grand Old Name
Forty-Five Minutes From Broadway
Act II
Act III
So Long Mary
Songs associated with the show but not referenced in script or Program:
Retiring From The Stage
Stand Up And Fight Like Hell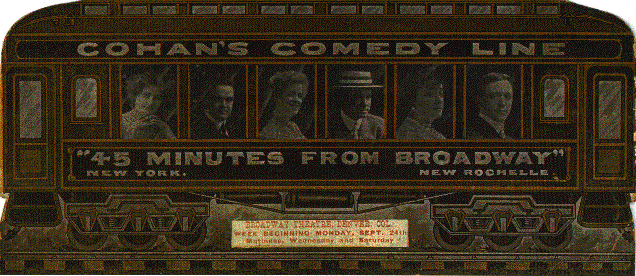 Souvenir Program Cover
Critic's Corner:
"It is always a temptation to write a treatise on Fay Templeton's artistic economy
of gesture, her ability to get large effects with little motions, her strange power to
make a modest droop of the eyelids, so to speak, re-echo through the whole
house, and her magnificent control of comic repose."
"The Dramatic Mirror"
Cohan's recollection:
"I don't make plays according to Hoyle (Austrian poet and playwright). I can't sit
down and deliberately make out a skeleton of what it is going to be. My plan is
to collect half a dozen characters, make them well acquainted with each other,
and with me, put them down on paper and then just let them run along. Whenever
they want to say anything I let them say it. After I have finished one act I haven't
any more idea than you have what the next one will be. I write my plays after
midnight. I get back to my apartment after the theater and have a supper - a big
one too: a pound of beefsteak, a large collection of fried potatoes and a pot of
coffee. Then I go to my room and write steadily until nine in the morning. At such
times I never touch stimulants other than coffee, for I find they unnerve me and
muddle me when I am keyed to a high pitch. It's like throwing sand on a hot
bearing."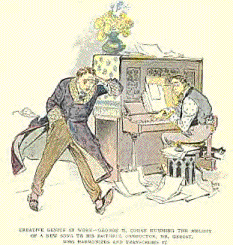 "During one of our "Johnny Jones" engagements at the New York Theater (we
played four of them), A.L.Erlanger said to me:
"Think you can write a play without a flag?"
"I could write a play without anything but a pencil." These flippant remarks always
made a hit with Erlanger. He never said so, but I could tell.
"We (Cohan & Harris) produced "45 Minutes From Broadway" in Columbus, Ohio.
After a few try-out performances, we jumped to Chicago and opened at the
Colonial Theater (the renamed Iroquois); this was in September, 1905. The piece
scored an instantaneous success and brought the playhouse back into the good
graces of Chicago's theatergoers. The "Standing Room Only" sign was displayed
in the lobby throughout the entire engagement of four months. After the New York
run of the play at the New Amsterdam Theater, we sent the piece back to Chicago
again for another four months' run. A solid year was divided between the two
cities, and Fay Templeton scored one of the notable successes of her career.
The two song hits of the play, "Mary's a Grand Old Name" and "So Long Mary,"
became even more popular than the "Johnny Jones" score, much to the
discomfort and annoyance of the music critics. It was a mixed opinion offered
by the dramatic critics of the play itself.
For instance, the fellow in Columbus called it 'a feeble attempt at musical comedy,'
while the Chicago Tribune proclaimed it 'one of the best song plays in twenty
years.' I ran these two notices side by side in the Chicago papers as a Sunday
"ad," and a little later on I was tipped off that the Columbus critic lost his job."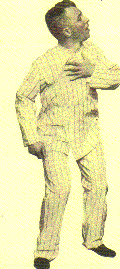 Cohan in the 1912
revival portraying
Kid Burns
Notes:
Cohan was approached by Abraham Erlanger to create a play for Fay Templeton. He
had just signed Templeton to a contract with the Theatrical Syndicate (having swept
her away from the management of Weber & Fields), and was looking to boost her
solo career.
Cohan also surprised Erlanger when he informed him that the show would require
only eight chorus girls. This was a new concept to him, because chorus girls
were an attraction at the gate, and an almost guaranteed success. Erlanger felt
certain that by utilizing only eight girls, the musical would be doomed, and would
become the biggest loss in the history of the Theatrical Syndicate. Abraham
Erlanger couldn't have been more wrong. "45 Minutes From Broadway" went
on to become the largest grossing musical since the "Black Crook" in 1866,
and solidified the producing team of Cohan & Harris on Broadway.
Arguably, "Forty-five Minutes From Broadway" was Cohan's best writing effort
(certainly in the musical genre), and is still a pleasure to read today, almost
one hundred years later. Where the musical was short on songs (and chorus
girls), they weren't missed, because Cohan had concocted a solid libretto,
complete with memorable characters and comedic situations. Likewise,
the set design (as depicted in the souvenir program below), was awe-inspiring
to the audiences of 1906 (at the end of Act III the audience was treated to a life-
sized replica of a train car pulling out of the station). "Forty-five Minutes From
Broadway" certainly proved that Cohan could write a play without a flag. It was
so enormously successful that Cohan was inclined to write a sequel, entitled,
"The Talk Of New York," which featured the hit song,
"When We Are M-A-double R-I-E-D."
After spending the fall of 1905 on the road, Victor Moore had eclipsed Templeton's
star stature with his performance. Templeton grew concerned over her role. She
knew that "Mary's A Grand Old Name" was a certain hit song in Act I, but
Templeton asked Cohan to write another for Act II. Cohan replied, "Miss Templeton,
you're a big hit and you're great - great. You have ten percent of the gross and you're
going to make a lot of money. Now you get right up there in the saddle and ride
along. Everything is going to be okay." Six weeks passed and one night after the
performance, Sam Harris was called to Fay Templeton's dressing room. She
turned to him and asked, "Sam, you'll be seeing George, won't you?" "Sure,"
answered Harris. "Will you give him a message for me?" "Certainly." "Tell him
I'm saddle sore," stated the star. Cohan roared over the story for years after.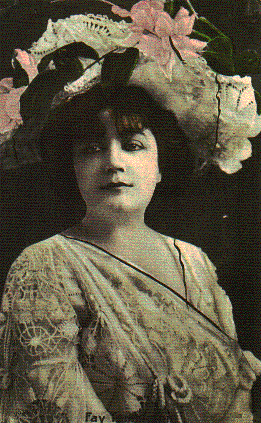 Fay Templeton
For many years, Fay Templeton was a mainstay with perhaps the greatest and
most influential comedy team of all, Weber & Fields. Her physical appearance
was entirely different from that portrayed by Irene Manning in "Yankee Doodle
Dandy." A native of Little Rock, AR, real Templeton relied on her sharp wit and
good sense of humor, which was always at her command. She also possessed
(according to authors Armond Fields & L. Marc Fields in thier book "From The
Bowery To Broadway") a "characteristically, deep, sensual singing voice." Once,
offhandedly, she called her leading man "a stuffed shirt," and the expression has
since become a fixture in American slang. It was also Templeton who introduced
a song that would become a popular standard (especially with Al Jolson) called,
"Ma Blushin' Rosie" in the Weber & Fields farce, "Quo Vas Iss" (1900). When she
left Weber & Fields by signing a contract with their arch rival (Abe Erlanger and
the Theatrical Syndicate), she appeared in long forgotten shows such as "A Little
Bit Of Everything" (1904), "In Newport" (1904), "Lifting The Lid" (1905) and finally,
Cohan's sensation, "45 Minutes From Broadway." Later, she performed in
several revivals of "H.M.S. Pinafore," by Gilbert & Sullivan. Her last role was a
supporting one, playing Madam Roberta, in Jerome Kern's "Roberta" (1933)
where she appeared opposite Bob Hope, George Murphy, & Sidney Greenstreet.
She has one film credit to her career ("From Broadway To Hollywood" - 1933), and
I can find no discography. If anyone has any knowledge of either of these items,
I would appreciate hearing from them.

Fay Templeton Signature
Donald Brian would score an even larger success in his next role "The Merry
Widow" (1907). Although he was under contract to Cohan & Harris at the time,
they released him, recognizing the potential of the show and what it would do
for Brian. They were right. "The Merry Widow" became the biggest show of
the decade, and one of the most popular shows in history. He also had success
in the revival of "The Chocolate Soldier" (1921), portraying Lieutenant Burnerli.
He continued to work in the theater until he retired in 1934.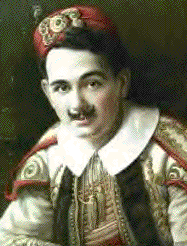 Donald Brian in "The Merry Widow"
For Victor Moore the Cohan and Harris discovery, "45 MInutes From Broadway"
was his first Broadway role. He appeared with his longtime vaudeville partner
and wife, Emma Littlefield, whom Cohan cast as Floradora Dean. The two
appeared together again in Cohan's sequel "The Talk Of New York" (1907),
where Victor Moore reprised his role of Kid Burns. During the 1920's Victor
Moore became one of Broadway's biggest stars, appearing in "Oh Kay" (1926),
"Funny Face" (1927), and the Nobel prize winning musical "Of Thee I Sing"
(1931). All three shows featured the music of George Gershwin. He created
the role of Moonface Martin in Cole Porter's "Anything Goes" (1934), as well as
appearing in Porter's "Leave It To Me" (1938). But, he is probably best known
for his film role as "Pops" in "Swing Time" (1936), starring Fred Astaire and
Ginger Rogers. He worked steadily in films and on the stage before retiring
in 1955 (after his last role as the plumber in "The Seven Year Itch" with
Marilyn Monroe). He lived in retirement for another 7 years before he passed
away at the age of 86.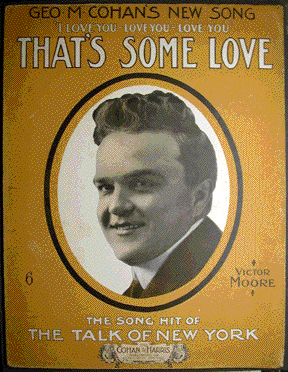 Sheet Music Cover from the sequel to
"Forty Five Minutes From Broadway"
entitled "The Talk Of New York" with
Victor Moore on the cover (circa 1907)
At the end of "45 Minutes From Broadway's" original run, Fay Templeton
presented Victor Moore with a gold "pinky" ring. It was a gift that Moore would
treasure and wear for the rest of his life. If you look closely in any of his films, you'll
see the ring.
"Forty-five Minutes From Broadway" was revived six years later, at the Cohan
Theater, on March 14, 1912. Cohan featured his own rendition of
Kid Burns in this production, which began when "The Little Millionaire" left
for the road. After a mere 36 performances Cohan closed "Forty-five Minutes From
Broadway" (perhaps prematurely) in order to make way for his newly written show
"Broadway Jones."
The show was once again revived in 1959 in a TV special for the "Omnibus"
program which starred Tammy Grimes as Mary Jenkins, and the durable Larry
Blyden as Kid Burns. It's soundtrack was released by AEI Records in 1986.
The original musical score is primarily kept in tact with the exception of the
addition of "Always Leave Them Laughing" in Act II. The standout musical
performance goes to Larry Blyden as Kid Burns. His rendition of the tite song
ranks among the best and finest interpretations on record. Likewise, Russell
Nype as Tom Bennett breathes so much life into "I Want To Be A Popular
Millionaire" that it makes you wonder why it hasn't been included among the
standards displayed in Cohan tributes.
There is also another play variation (that has nothing to do with the original, and is
more reminiscent of "George M!") with the same title.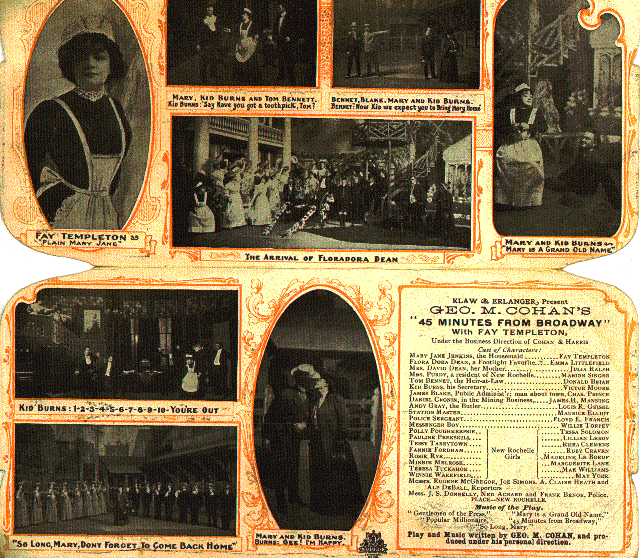 Inside Contents of the Souvenir Program