George M. Cohan In America's Theater
|
home





I'd Rather Be Right
Opened: November 2, 1937
Alvin Theater NYC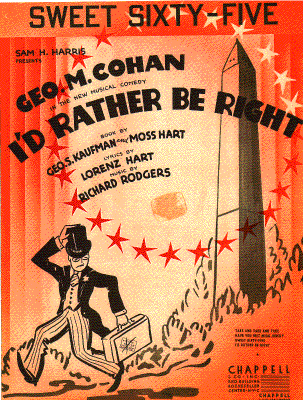 Sheet Music Cover
Cast:
Peggy Jones....................................Joy Hodges
Phil Barker........................................Austin Marshall
President Roosevelt........................George M. Cohan
His Secretary....................................Ralph Glover
Postmaster General.........................Paul Parks
Secretary Of the Treasury................Taylor Holmes
The Cheif Justice..............................John Cheuy
James Maxwell..................................Florenz Ames
Social Security Messenger..............Georgie Tapps
Federal Theater Director..................Joe Macaulay
The Judge's Girl.................................Mary Jane Walsh
Synopsis:
Peggy and Phil wander distraught in Central Park on the 4th of July. They
have hopes of getting married once Phil gets a raise, but his boss
refuses until President Roosevelt balances the budget. Phil falls asleep
and dreams that he meets Roosevelt in the park, and explains his
situation to him. Roosevelt vows to see the couple married.
Songs From The Show:
Act I
A Homogeneous Cabinet
Have You Met Miss Jones?
Take & Take & Take
Spring In Vienna
A Little Bit Of Consitiutional Fun
Sweet Sixty-five
We're Going To Balance The Budget*
Act II
What's It All About?
Labor Is The Thing
I'd Rather Be Right*
Off The Record*
A Baby Bond
* indicates songs performed by Cohan
Critic's Corner:
"Mr. Roosevelt should feel very happy about his part in "I'd Rather Be
Right." On the whole, George S. Kaufman and Moss Hart feel very
tender about him. Apart from their affectionate treatment of him in the
plot and lines of their musical comedy they have engaged George M.
Cohan to impersonate the President, which is a dispensation devoutly
to be desired by anyone who wants to please an audience...Mr. Cohan
has never been in better form. The audience was his, and lovingly his,
all last evening.
If the authors had held council with Jim Farley, they could hardly have
felt in better humor about our country. Although advance reports seemed
to indicate that "I'd Rather Be Right" might discharge a lampoon at the
follies of current politics, it turns out to be a pleasant-spoken musical
comedy that leisurely ambles away the evening. There is some brisk
stuff here and there - a capital object lesson in the effects of taxation,
which is worthy of the Living Newspaper technique; a quip or two about
the Federal Theater, "Wherever we see three people together we are
supposed to give a show"; a poke at Walter Lippmann and a few
frolicsome skirmishes with the Supreme Court. But there have been
Marx Brothers shows in the past that were more hilariously antic than
this pastoral in Central Park, and "Of Thee I Sing" was enormously
more versatile and dynamic. "I'd Rather Be Right" is playful; and,
all questions of political opinion to one side, that is hardly enough for
a first-rate musical show.
Brooks Atkinson, New York Times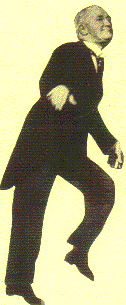 Cohan as F.D.R.
"If any additional evidence were needed that George M. Cohan is one of the
great men of the theater then "I'd Rather Be Right" certainly supplies it. In it
Mr. Cohan happens to be playing President Roosevelt and his performance
is so mellow and ingratiating and thoroughly lovable that anyone from a
Tory to a Communist is bound to be enchanted with it."
Richard Watts, Jr., New York Herald-Tribune
Four months later, an article appeared in the Herald-Tribune that stated:
"Every night at the Alvin Theater, just before the end of the first act, George M.
Cohan, in the role of President Roosevelt, reaches behind the property rack,
and picks up a high hat and a gold headed cane, prances nimbly to the
footlights and begins to sing....
There's a little more of that, and then he 'goes into his dance.' With the grace,
gusto and dynamic energy of a young man less than half his years he bounds
about the stage precisely as he did more than forty years ago when he was the
bright particular star of the famous vaudeville act known as the Four Cohans and
as he did just after the turn of the century in his first show to reach Broadway,
'Little Johnny Jones.'
There is something so electric about his dancing that the audience is literally swept
into applause which becomes, on occasion, positively hysterical. Middle-aged and
elderly spectators, remembering him in those far-off days when he had not yet
been given the accolade of First Actor by the critics, are afflicted with a strange
nostalgic emotion and weep openly. The younger theatergoers are carried away
by the sheer emotional impact of the occasion."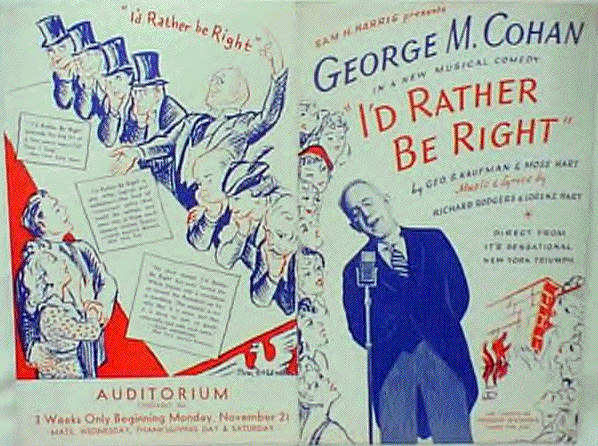 Outside Cover of a flyer for "I'd Rather Be Right"
In an interview from the New York Herald Tribune (March 6, 1938) Cohan
discusses his dancing style:
"I gave up trying to be a topnotcher as a dancer when I was eighteen. I
saw that a few trick steps which I had worked out, coupled with terrific
energy and the covering of a great amount of territory on the stage in a
few seconds, served the purpose of a carefully studied routine and I let
it go at that. At first, I was going to master every step known and make
a career solely as a dancer, but I decided there wasn't anything in it -
that is, back in the old days before there were any movie dancers
getting thousands of dollars a week. The best dancer I ever saw on any
stage, and that goes for the present day too, was a fellow named Mike
Forbes, who did a dancing act with a partner when I was growing up.
If the act ever drew down a joint salary of more than $80 a week, I'd
have heard of it."
----------------------------------
It should also be noted that Cohan's unique style of dancing has been
utilized and incorporated by such great dancers as James Cagney
and Gene Kelly.
Click here
to read Gene Kelly's thoughts on George M. Cohan.
Just watch Kelly in the "American In Paris Ballet" (even Leslie Caron does the
Cohan walk on her toes), or the often forgotten song from "Take Me Out To The
Ballgame," where Kelly sings "It's The Hat My Dear Old Father Wore, Upon St.
Patrick's Day," and you'll see Kelly's interpretation of the Cohan style. For more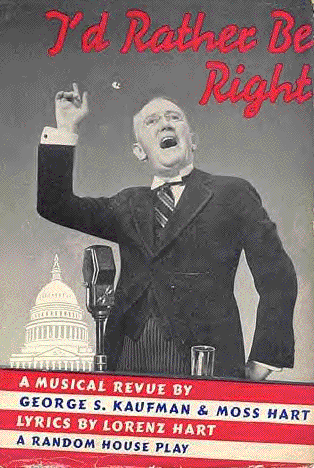 Dust jacket cover to the published release of
Kaufman & Hart's musical
Notes:
This was really the play that brought together two good friends after an
absence of almost twenty years - George M. Cohan and Sam Harris.
The two teamed up for a minor Cohan play, "Fulton Of Oak Falls" earlier
in the year, which lasted for only 37 performances.
At first Cohan didn't want to do the role. He had grown to dislike
Roosevelt (after supporting him in 1932 by substituting the lyrics
of "Over There" with "What A Man"), and felt that the public would never
accept a Presidential song and dance man. But George Kaufman &
Moss Hart (playwrights) were not so easily put off. They argued that this
would be a song and dance man President. And, however disbelieving
George M. was, he gave in.
He also had a difficult time accepting the scoring by Rodgers and Hart
who wrote the words and music to his only musical film appearance,
"The Phantom President."

"The Phantom President" (1932) was a
disaster for all concerned, both aesthetically and financially
(unfortunately, it contains the only song and dance performance by Cohan
on film), and Cohan would only refer to Rodgers & Hart sarcastically as
"Gilbert & Sullivan."
Richard Rodgers recalls that after playing the entire score for Cohan, he
rose from the chair, patted him on the shoulder, and muttered "Don't
take any wooden nickels."
Further friction arose when Cohan felt that one of the lyrics by Lorenz Hart
wrote (in the song "Off The Record"), was disrespectful to his good friend
Al Smith. So, Cohan decided to substituted the lyric with one of his own.
Richard Rodgers tells the story in his book, "Musical Stages":
"Our opening night in Boston he even added his own lyrics to an encore
of "Off The Record" which were particularly cruel to the President. The
pretext for this addition, according to Cohan, was that he objected to
lyrics that Larry had written about Al Smith which he thought were too
cruel. Actually, those particular lyrics had been discarded weeks
before. The only reason Cohan put in his own lines was simply for his
own ego - to show everyone that he could still beat us at our own game.
Trying to make a joke of it after he sang the lines, Cohan confided with
the audience - though of course for our benefit - 'I'll probably get my
two weeks' notice for doing that.'"
"As soon as the performance was over, Larry and I raised hell with Sam
Harris, and Cohan promised that he'd never do it again."
In the film "Yankee Doodle Dandy" James Cagney recreates the "Off
The Record" dance routine almost exactly the way Cohan originally
performed it.
The show's only song hit "Have You Met Miss Jones" has gone on to
become a standard in the Rodgers and Hart catalogue.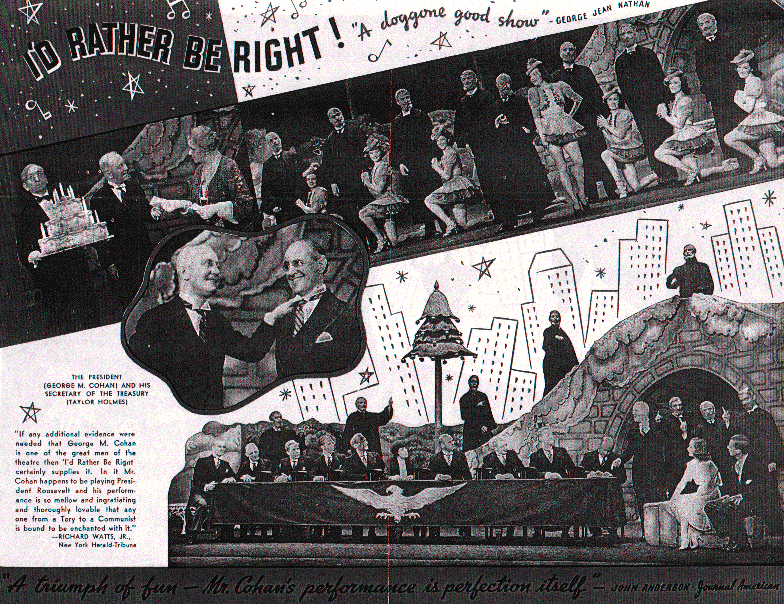 Black & White version of the inside contents of the flyer