George M. Cohan In America's Theater
|
home




What's New

9/07/06 - Updated with many new photos for shows, "George Washington Jr.,"
"The Royal Vagabond," "The Little Millionaire," "Seven Keys To Baldpate," etc.
Enjoy!
Here's a really beautiful piece written by Jack Foley (brilliant poet from the Bay area).
If you ever get a chance to see Jack perform, you'll understand how his brilliance
transcends the recitation of the written word, and breathes life into his creations.
His sense of rhythm and timing dances his thoughts from the written page and fills
the room, attracting his audience to his work, one at a time. A masterful performer
in his own write (pardon the Lennon pun).
Here, another of his favorite performers from the early 1900's, Harry Fox (author of
the song, "I'm Always Chasing Rainbows") writes a thank you letter to George M.
for remembering his birthday.
HARRY FOX (DEAD) TO GEORGE M. COHAN (DEAD)
(The dead Cohan has just sent the dead Fox a birthday card)
Dear Georgie,
Gee, it's good to hear from you—especially being that you've been dead for over
sixty years. You know how a good word will cheer a fella when he's a little down,
and after all not everybody even remembers birthdays. To get a birthday card from
a corpse is something really special, and I'm telling you I'll never forget it.
How is it out there, Georgie? You know, us Catholics we get told a lot of things and
I guess they're all true, but you're the one who used to sing, "Hurried and worried
until we're buried, and there's no curtain call." You remember that, Georgie? Right
up to the footlights you'd go and you gave it all you had. I remember those days,
Georgie. How you used to put that leg of yours way up on the proscenium wall and
then you'd jump. Oh, you was something, Georgie, you was something. I don't know
much about heaven or—that other place, or wherever we might end up, but, Georgie,
I hope you still got your dancing shoes. And I remember the Four Cohans, and oh,
what a dancer that Josie was. And Jerry—there was a song and dance man, a really
good song and dance man. Oh, and Nellie with that big smile of hers. Whatever
happens to people, Georgie? They flash, you know, right out at you as if they was
some big piece of the sun and then they're gone.
But they're not forgotten, Georgie, no they're not, not as long as I'm here. I was
never much, you remember, but you always thought I did a pretty good Essence
just like old Prim with his blarney, and I could sing on key. Is it the Irish, Georgie?
Do they flash out at you more than others? Or was it just that time, a time that made
room for people to be—to be people. Nora Bayes, she wasn't Irish, Georgie but you
let her introduce "Over There." And Sam, your partner, what a guy he was. And what
a guy you were. That doesn't die, does it Georgie? That can't just vanish, can it? Isn't
that really what us Catholics believe in the end? That goodness and decency don't
just vanish: that they stay always, even if you drive nails in them and put them on a
cross you can't kill them. Goodness don't die, Georgie, any more than you did.
This card is proof of that. Some people sing from the larynx, and they sing ok, but
if you sing from the heart (even if it goes through your nose) you make something.
And it stays.
You know, Georgie, it occurs to me that I must be dead too. How can I remember
all that stuff from a hundred years ago and still be alive? I must be dead, Georgie.
But it isn't anything I notice too strongly. You could have sent me a deathday card,
Georgie, you could have done that. Maybe you even know the day I died, which is more
than I do. But, Georgie, you didn't, you sent me a birthday card, remembering when
I first came into the world. Where do we come from? Who knows, but we're here and
at least some of us shine for a little while. I'm more shadow than shining, Georgie, but
you remembered me and you sent your regards. I won't forget it, Georgie, not as long
as I'm dead.
And that's the kind of little guys we are.
Harry
Copyright 2006 - Jack Foley

George M. Cohan is alive and well and Living In NYC!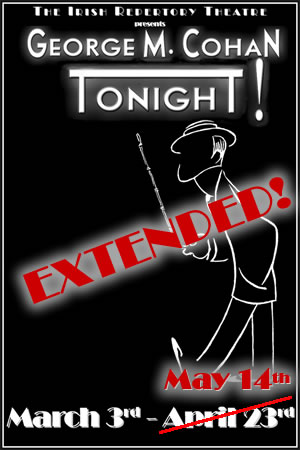 See Chip Deffaa's hit George M. Cohan musical

"George M. Cohan Tonight!"
OPENED MARCH 9, 2006
PREVIEWS BEGAN MARCH 3rd
EXTENDED! March 3 - May 14, 2006
The Irish Repertory Theatre (132 West 22nd St.) will present GEORGE M. COHAN TONIGHT! a musical following the extraordinary life and career of the legendary showman on March 9, 2006 at 7 PM; previews begin March 3, 2006; closing May 14, 2006. GEORGE M. COHAN TONIGHT! featuring Jon Peterson is written, arranged, and directed by Chip Deffaa. Music and Lyrics by George M. Cohan. With additional material by Chip Deffaa. Musical Direction by Sterling Price-McKinney.
George M. Cohan may well have been the single most talented figure in American theatrical history. He gave Broadway its pace, its beat, its snap. He wrote, directed, and produced scores of shows; penned hundreds of songs; and became the most popular musical comedy star of his era. Critics called him "The First Actor" and "The Man Who Owns Broadway." Starting out as a poor Irish-American kid from Providence, RI, Cohan never spent more than a few weeks in school. Nevertheless, he remade the American songbook, and made America ? not Europe ? the standard-setter for musical theater.
Jon Peterson (George M. Cohan), who won Back Stage's "Bistro Award" for his dynamic portrayal of Cohan, has enlivened many musicals in his native London, including 42ND STREET, A CHORUS LINE, THE SOUND OF MUSIC, CATS, DAMES AT SEA, ON YOUR TOES, SHE LOVES ME, and Noël Coward's CAVALCADE. He starred as the emcee in Sam Mendes' and Rob Marshall's acclaimed production of "CABARET for two years in the U.S. National Tour before covering the role on Broadway. He may be heard on such CD's as "Skiddoo" and "The Johnny Mercer Jamboree," and seen in the film ANNA BALLERINA. Trained at London's Royal Ballet School, he has choreographed ? in addition to starring in ? GEORGE M. COHAN TONIGHT!
Chip Deffaa (Author & Director), has written eight books dealing with music and popular culture, including "Blue Rhythms" and "Voices of the Jazz Age" (University of Illinois Press). For 18 years, he covered entertainment for The New York Post, writing about jazz, cabaret, and theater. The foremost authority on Cohan's work, he has created and staged no less than five different shows about Cohan, for all different cast sizes. He is a member of the Dramatists Guild, ASCAP, the Drama Desk, NARAS, and the American Theater Critics Association, and is a trustee of the Princeton University Tiger Magazine. Mr. Deffaa is a recipient of the ASCAP/Deems Taylor Award.
Sterling Price-McKinney (Musical Director) has served as musical director for productions of all kinds of shows, from established favorites like AIN'T MISBEHAVIN' and CHICAGO to brand-new works such as FREE TO BE YOU AND ME. He has played for such artists as Carol Channing, Bob Hope, Debbie Reynolds, Kathleen Battle, Barrett Foa, and Lucie Arnaz. Lady Bird Johnson calls him her "favorite pianist." You can hear Price-McKinney accompanying Deborah Harry on the "Love Theme from the Texas Chainsaw Massacre ? The Next Generation." He has a cameo role in Jonathan Caouette's film TARNATION. A member of ASCAP and the Dramatists Guild, Price-McKinney has a new CD, "Chasing Shadows."
Set design is by James Morgan, costume design by David Toser, and lighting design by Mary Jo Dondlinger. Rachel S. McCutchen, Production Stage Manager. Charlotte Moore, Artistic Director, Ciarán O'Reilly, Producing Director, Patrick A. Kelsey, Managing Director.
Performances of GEORGE M. COHAN TONIGHT! are Tuesday – Saturday at 8 PM. Matinees are Wednesday, Saturday, and Sunday at 3 PM.
Tickets are $50 and $45 and can be purchased by calling The Irish Repertory Theatre Box Office at (212) 727-2737. For more information, call (212) 727-2737 visit www.irishrep.org.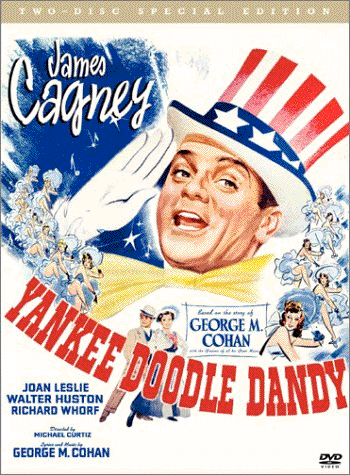 click on the link above to purchase

September 30, 2003 The Release of "Yankee Doodle Dandy" on DVD

I am both pleased and proud to announce that the Warners Legacy Series has
released "Yankee Doodle Dandy" on DVD!
The new master is from a restored print! You'll now be able to see this film in its full
photographic beauty, and enjoy the audio with its original sharpness and clarity. All in
all, it's a magnificent job in film preservation.
Plus, this DVD release will feature a documentary entitled, "Let Freedom Sing," which
tells the story behind the making of "Yankee Doodle Dandy." It contains interviews and
comments on the film by Joan Leslie, Joel Grey and John Travolta, film historians
Robert Osborne, Bob Thomas, and Rudy Behlmer, A. C. Lyles, Cohan and Cagney
biographer, John McCabe, and author of perhaps the best film commentary on Cagney
ever written Patrick McGilligan, and...yours truly.
Also included in the 2 DVD set is the Cagney short "You John Jones," a gallery of trailers
from his films. A gallery featuring a variety of original sheet music covers from Cohan's
shows, and much, much more.
You can buy this wonderful DVD set at your local video store, or you can purchase it
at Amazon.com and receive 30% off its regular selling price. For your convenience,
I've posted a link above.
__________________________________
I am proud to present Esther Valentine doing her own rendition
(in a Celtic style) of the George M. Cohan song, "Billie." Enjoy!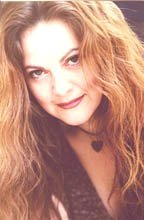 Click on the picture to listen
Credits:
Esther Valentine*: Vocals, Keyboards, Pennywhistle
David Collins: Lead & Rhythm Guitar
David Gregoli: Cello & Mastering
Produced, Arranged, and Engineered by Esther Valentine
Produced at Hidden Star Studios.
*She's also my wife.
is not a big deal...enjoy!)
Esther Valentine: Vocals
Jeff Lass: Piano
The above songs were recorded by Esther Valentine at Hidden Star Studios.
______________________________________
Congratulations to the Fullerton Civic Light Opera on their superb production
of "George M!" A wonderful job of direction and musical staging from a longtime
Cohan fan, Rob Barron, and an outstanding performance by Randy Rogel. One
of the more worthwhile theatrical groups in Southern California. Click on their
banner to get to their web site for their current schedule. Many thanks to Jan
Duncan, Artistic Director of FCLO.
_______________________________________
A George M. Cohan CD From Vaudeville Archives

All of Cohan's 78 rpm recordings are now available on CD! Plus, there are live
recordings of him performing "The Yankee Doodle Boy," "Give My Regards To
Broadway," "Grand Old Flag," and "Over There!" And, to round out this collection,
you'll get the original recordings of: Ethel Levey singing "I Was Born In Virginia,"
"Over There," by Nora Bayes, and many, many more.
Additionally, Vaudeville Archives offers some of the finest collections gathered of
many of the greats from Broadway's yesteryear. Their catalogue offers wonderful
collections of Al Jolson, Fanny Brice, Bert Williams, Harry Lauder, and John
McCormack. There are also some rare Louis Armstrong and Bing Crosby
recordings available as well. Each CD is priced at $12 (which includes shipping
and handling).
"Vaudeville Archive Records was founded by a group of record collectors, all of
whom share the desire to make their personal collections available to other
collectors. With somewhere in the neighborhood of fifty thousand 78 rpm
and cylinder recordings within an arms reach and another million a phone call
away, Vaudeville Archive Records will be issuing some rare and wonderful
items."
Click Here
to find out how to order from Vaudeville Archives!
______________________________________________