George M. Cohan In America's Theater
|
home





Little Johnny Jones

Opened: November 7, 1904
Liberty Theater, NYC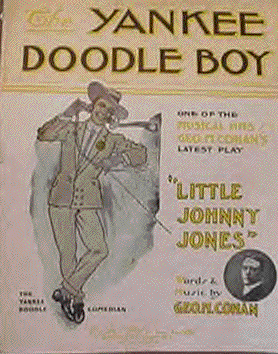 Sheet Music Cover
Original Cast:
Johnny Jones........................George M. Cohan
Anthony Anstey......................Jerry Cohan
Mrs. Kenworth........................Nellie Cohan
Goldie Gates..........................Ethel Levey
Henry Hapgood......................Donald Brian
Wilson (The Unknown)..........Tom Lewis
Timothy McGee......................Sam J. Ryan
Captain Squirvy......................C.J. Harrington
Florabelle Fly..........................Truly Shattuck
Bessie.....................................Edith Tyler
Sing Song...............................J. Bernard Dyllyn
Inspector Perkins...................Charles Bachmann
Hung Chung............................Fred Williams
Synopsis:
Johnny Jones (George M. Cohan), an American jockey, is accused of throwing the
English Derby by Anstey (Jerry Cohan). His soon to be sweetheart Goldie (Ethel Levey)
follows him to London with her lawyer (Donald Brian). While in London she disguises
herself as a man, fooling both Jones and her Aunt (Nellie Cohan), hoping to discover
if Jones really loves her. In the end, Jones is vindicated of the charges and marrys
Goldie.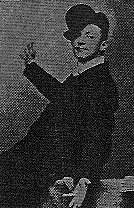 Songs From The Show:
Act I
The Cecil Of London Town
They're All My Friends
Mamselle Fauchett
Op In The Ansom
Nesting In A New York Tree
The Yankee Doodle Boy*
Act II
Off To The Derby
Girls From The USA
Sailors Of The St. Hurrah
Goodbye Flo
So Long Sing Song
Good Old California
A Girl I Know*
Give My Regards To Broadway*
Act III
March Of The Frisco Chinks
Life's A Funny Proposition After All*
I'm Mighty Glad I'm Living That's All**
Songs associated with the show but not referenced in script or Program:
Foong, Toong, Fee
If Mr. Boston Lawson Had His Way
* indicates songs performed by Cohan
** this song replaced "Life's A Funny Proposition After All" in subsequent revivals of the play.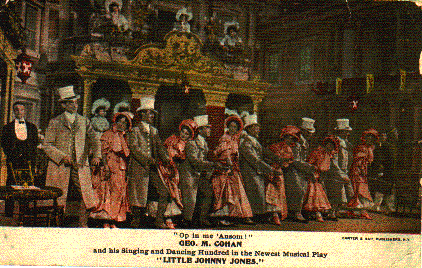 A postcard depicting the musical number "Op In Me 'Ansom!"
A mock-up of the Cecil Hotel in London was used for the set of Act I.
Critic's Circle:
"George M. Cohan who begins his career as a star in the piece, made his reputation
as a member of that clever family of funmakers, the Four Cohans. The new play is
not as funny as some of the earlier pieces, and there are no new songs quite as
good as "If I Were Only Mr. Morgan" (featured in "Running For Office"). The piece
is really melodrama with a musical setting, and deals with the tribulations of an
American jockey who is driven from the English turf by the manoeuvres of an
American gambler. The part of the jockey gives the star very little opportunity,
and the doleful song about the uselessness of living (Life's A Very Funny
Proposition After All), evidently intended as the piece de resistance, is quite
out of place in a play of this character. Jerry Cohan is not at home in the role
of the villain, and Ethel Levey, a graceful dancer and comedienne, does not
shine with any particular lustre in her dual role. Tom Lewis, a burly,
good-natured comedian who has made a reputation in vaudeville, made a hit."
Theater Magazine - December 1904
"At the Providence Opera House last evening George M. Cohan, one of "the Four," with a
good-sized company, began a week's engagement in his latest musical offense, "Little
Johnny Jones." The production still has "four Cohans," although Josephine has deserted
the fold. Father and mother are still with the show and so is Ethel Levey, who is Mrs.
George M. in private life. The combination shows its familiar styles of varied talents
neither better or worse than when last seen in this city and the entertainment is about of
the usual Cohan standard, although there are features in this offering that have never been
seen on any stage before. The extremely large audience present left no doubt as to its
hearty approval of the whole affair. The applause was frequent and there were curtain
calls and a speech by the "author actor." All of which was in sad contrast to the
comparatively slim and indifferent greeting extended to Miss Eleanor Robson, week
before last, as well as to many of the previous attractions of marked artistic merit.
According to the programme, George M. Cohan is responsible for about everything in
"Little Johnny Jones." He wrote the play, he wrote and composed the musical numbers
and he enacts the title role and tries to sing some of his own concoctions. He disarmed
all suspicion in his brief curtain speech by saying that he did not want anyone to take him
seriously, either as actor, author or composer. He delivered his speech, however, from
the corner of his mouth, which did not impart a tone of sincerity to his remarks. And,
whatever he may say, before the curtain, it is a serious thing - this unloading of a
conglomeration like "Little Johnny Jones" upon an innocent and too readily absorbent
public. It must be treated seriously.
In the first place young Mr. Cohan has done things to the "drama" that would cause even
the audacious G. Bernard Shaw to gasp. "Musical comedies" are common, but this is
the first known attempt to construct a "musical melodrama." From my possible viewpoint
of art, even that of the Rogers Brothers, the result is as weird and "all to the bad" as
could be imagined. There is more than a barrelful of plot, and it keeps croping out in
chunks in the middle of alleged music and eccentric dancing in a way to make a sane
person hold his throbbing head. Any attempt to describe it would be futile; life is too
short. To carry this ill-assorted combination along, Mr. Cohan has written a lot of
dialogue that has some bright spots, but for the most part is commonplace, to put it
kindly; and he has provided a dozen and a half "musical numbers" whose
distinguishing feature is ginger. In fact, there is more ginger than music. It is all very
Cohanesque.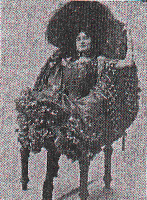 Ethel Levey In
"Little Johnny Jones"
Perhaps young Mr. Cohan is getting more modest. Anyway, he had had the consideration
to eliminate himself largely from the action of this play, although he is the hero and that
is much to be thankful for. When he does appear he "sings" and talks with the same
nasal voice and he dances with the same agility...Ethel Levey also dances with all her
former skill, and her male impersonation is excellent. Jerry J. Cohan, and Helen F.
Cohan have roles that are well within their abilities, and their work is as credible as
any in the support. The real "star" of the melodrama is Tom Lewis, who plays a
nonchalant American detective. He gives a genuine character impersonation, and
about all the bright lines in the piece fall to him. He knows what to do with them, and
he and the chorus girls are the really attractive features of "Little Johnny Jones."
The aggregation will remain at the Opera House for the week, and with the usual
Wednesday and Saturday matinees."
Frederick H. Young, Providence Journal, April 11, 1905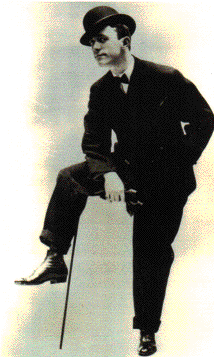 Publicity Still
Cohan's Recollection:
"Of course, when Sam and I first went into business together, I naturally thought Sam had a
lot of money, you know? And we didn't talk about that until we were in the middle of
rehearsals of our first show. Then, when he told me he was broke, that was my first
surprise. And he seemed to be just as surprised as I was when I told him I was broke.
And the members of the company were very much surprised when they found out we
were both broke."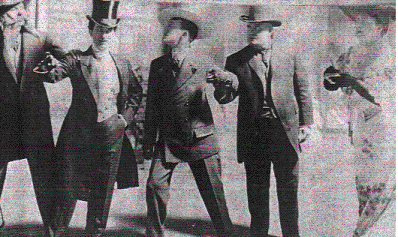 Still From "Little Johnny Jones"
"I had been to London the summer before and conceived the idea of using the
Cecil Hotel courtyard for one scene and the Southampton pier for another, but
beyond that I had given no thought to story, situations, or musical numbers, as was
far too busy to get down to actual writing until about ten days before rehearsal call."
_________________________________
"When I got through with the manuscript of "Little Johnny Jones" I had an
old-fashioned comedy melodrama "all dressed up" in songs and dances.
'You can't play a mob scene, shoot off guns, and dash from heroics into a musical
number. The public will never stand for it,' said Theodore Kreamer, a writer of
popular melodrama, after witnessing my dress rehearsal.
'Well, it's new isn't it?'
'Yes, it's new, of course, but - '
'Then at least they'll have to give me credit for trying.'
That was the only argument I had to offer.
I was superstitious enough to book Hartford as the opening stand, hoping to follow
along the luck of "The Governor's Son." "Little Johnny Jones" was a smashing hit
possibly one of the biggest in the history of American musical comedy.
Our first New York engagement with the piece, nevertheless, was a queer
experience. We came into the Liberty Theater, and the opening performance was
apparently a sensational success. The indifference of both press and public,
however, was so pronounced that after seven weeks of half-filled houses, pretty
well convinced that New York would have none of it.
We moved to Philadelphia, where the play proved such a popular hit, we were
immediately recalled to Broadway, where we reopened at the New York Theater
and ran to capacity audiences for weeks and weeks. Of course, this was to
scale of popular prices, but the speculators were on the sidewalk collecting
fancy premiums just the same. It was the one and only Broadway "comeback"
I have ever known or heard of.
We got busy at once and organized a second "Johnny Jones" troupe and sent
it throughout the country while I continued to play New York and Philadelphia,
and later on Boston and Chicago. It was what was known as a "freak
attraction" from the box office standpoint, but the critics didn't take very
kindly to my personal performance of the title role.
'A swaggering, impudent, noisy vaudevillian, entirely out of place in first-class
theaters,' was the opinion of one of New York's foremost dramatic experts.
Another prominent critic characterized me as 'the musical-comedy
nuisance.' "
____________________________
"In the meantime, the "Johnny Jones" song hits were being whistled, brass
banded, hand organized, and phonographed throughout the United States
to such an extent that even musical critics took a shot at me. "Give My Regards
To Broadway," "Good-by Flo," "I'm A Yankee Doodle Dandy," and all the others
were "tin-pan tunes," according to the musicianly highbrows.
'Cohan is a disease,' wrote one fellow in Cincinnati, 'and the Yankee Doodle
fever is spreading far and wide.'
'Fly your flag; Cohan's in town,' was the caption line of a cartoon of Uncle Sam
addressing the populace, drawn by a comic artist in the comical town of
St. Louis."
Notes:
This was Cohan's third full-length musical comedy, and the one that made him a household
name. Cohan found the idea for the show via a newspaper article about the London
jockey, Todd Sloane. This was the first show by the new producing team of Cohan &
Harris. It was agreed early on in their partnership that Cohan would tend to the artistic
side of the company, and Harris would take care of the business. The team elected to
sign a contract with the Theatrical Syndicate, in an effort to play the best theaters in the
country (in 1904, the only solid options were the Theatrical Syndicate, or the newly formed,
upstart Shubert Organization). Abe Erlanger, one of the five original partners of the
Theatrical Syndicate, took a special interest in Cohan. The Syndicate was long known for
its mistreatment of anyone connected in the theater. However, Erlanger was astute
enough to see in Cohan "the wave of the future of musical comedies." It added to
Cohan's ability to keep Erlanger at bay and prevent him from meddling with
his production.
Purposefully, the character of Johnny Jones, was not given too much time on the stage.
Yet, each scene in the play revolves around Jones, so the character is never far from the
audience's mind. Cohan's shrewdness over his role paid off.
In an effort to try to understand the impact that this show had on the world of Broadway
(in 1904 and 1905), the standard for a musical program was a European flavored
operetta. This was the polar opposite of Cohan's presentation. He offered a
complete departure from the slow, mannerly, proper European code of conduct. As
Armond Fields and L. Marc Fields cited in their book, "From the Bowery To Broadway,
Lew Fields and the Roots of American Popular Theater," "....Cohan's "Little Johnny
Jones" was a revelation: a musical with the dramatic shape (and impact) of a
melodrama, with songs in a vernacular that approximated the everyday speech of the
audience."
"In its conception and execution, "Little Johnny Jones" was more of the same, only done
better: a showcase for the star performer. It simultaneously confirmed the conventional
wisdom about musicals (that they should be extensions of the star's personality) and
proposed an impossible model. To emulate the relative coherence of "Little Johnny
Jones," one needed a star with the triple-threat talents of George M. , but there has never
been another stage figure who combined these abilities."
"Little Johnny Jones" featured three classic Cohan songs: "The Yankee Doodle Boy,"
"Give My Regards To Broadway," & "Life's A Very Funny Proposition After All."
"The Yankee Doodle Boy," is as much a part of Americana as any other song ever
written. Almost a century later (along with "Give My Regards To Broadway") it can
still be heard through out the country. "Give My Regards To Broadway," has become
an anthem for New York's famous theater district. It was the popularity of these two
songs (as well as their endurance), that put George M. on the map, and made him a
household name.
Cohan recorded live versions of "The Yankee Doodle Boy" & "Give My Regards To
Broadway" in the late 1930's, and he also recorded "Life's A Very Funny Proposition
After All," at his first recording session in 1911. Fortunately, a Cohan performance of
all three songs is preserved.

Thirty-eight years later, the Southampton Pier set for Act II (where Cohan first
performed his song "Give My Regards To Broadway"), was faithfully reproduced
in the film "Yankee Doodle Dandy." The pier, boat, and skyrocket look almost identical to
the stills from the original production.
For its initial Broadway run, "Little Johnny Jones" got a lukewarm reception. This
infuriated Cohan because he believed he had a "first-rate show." During the winter and
spring of 1905 he took the show on the road, playing every major city, honing the book
and music until the public welcomed him with success. Cohan was genuinely
shocked by the review of Frederick Young from the Providence Journal, especially since
the audience had given him a standing ovation the night before. He responded to the
review with a vow that he would never play Providence, RI again. And, he didn't - -
at least not until 1910.
Before the production began Josie left with her husband Fred Niblo. Together they
appeared in "The Rogers Brothers In Paris." The Rogers Brothers were a successful
comedy team. Josie would only have one more appearance on stage with her family
(The Yankee Prince, 1908). It was during the New York run that George auditioned
a young girl, named Agnes Nolan and her sister, Alice from Brookfield, MA. He was
amused by her vitality, and her demand to receive $25 a week for chorus work
(Cohan bargained her to $22, and she accepted). Agnes would go on to become
the second wife of George M. and Alice would later marry Sam Harris.
Also, during the audition process the men of the show were asked the following
questions: 1) Can you sing? 2) Can you dance? 3) Can you play baseball? Both
Cohan & Harris were such enthusiasts of the game that they formed their own
baseball teams. If a performer couldn't sing or dance, that was all right, they would
teach them the discipline - but if he could hit .300 or better, that was an asset.
Cohan revived this show many times. Most notably in 1905 he revived "Little Johnny
Jones" during the summer (May 8 through August 26th) and fall (November 13 through
December 9) at the New York Theater. An additional revival featuring Cohan was
performed in 1907.
An attempt to revive "Little Johnny Jones" was made in the early 1980's by two different
companies. The Goodspeed Opera House was a mild success (available on VHS),
and in 1982 Donny Osmond starred in a Broadway revival (ironically at the Alvin Theater,
the site of Cohan's last Broadway musical comedy performance "I'd Rather Be Right").
It lasted one performance.