George M. Cohan In America's Theater
|
home





The Yankee Prince

Opened: April 20, 1908
Knickerbocker Theater, NYC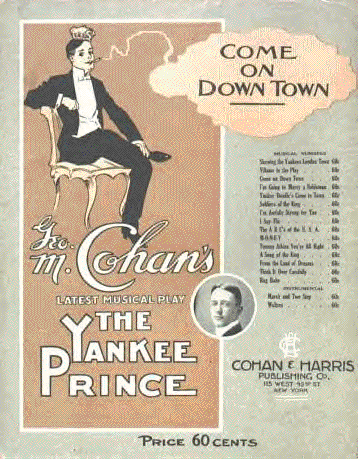 Sheet Music Cover of the Hit Song From The Show
Original Cast:
Franklin Fielding.............................................Jerry J. Cohan
Percy Springer................................................George M. Cohan
Mrs. Fielding...................................................Helen F. Cohan
Evelyn Fielding...............................................Josephine Cohan
Whiteside Webster........................................George Parsons
Earl Of Waymouth...........................................Frank Hollins
Steve Daly.......................................................Tom Lewis
John Fagan.....................................................Sam Ryan
DeVrie..............................................................J. Jiquel lanoe
Duke Of Dollsford...........................................Robert Emmett Lennon
Lillian Lloyd......................................................Dorothy Jardon
Waiter/Bobby...................................................Donald Crisp
Synopsis:
In London, (an American, and nephew of Andrew Carnigie) Percy Springer
discovers the love of his life, Evelyn Fielding. Must to his chagrin, her father
Franklin, has already promised the hand of Evelyn to the Earl Of Waymouth.
But Percy persists and plots to expose the Earl's true feelings (he's marrying
for money), when he offers a bribe of one million dollars, provided the Earl
breaks off the engagement. Webster & Lloyd (two con artists who
have befriended Percy) convince the Earl he should refuse, betraying
Percy's trust (with the hope of keeping Percy's money close to them). When
the Fieldings return home to Chicago, the Earl, Webster & Lloyd are exposed,
and Percy (with the help of his friend John Fagan) marries Evelyn.
Songs From the Show:
Act I
Showing The Yankees London Town*
I'm Going To Marry A Nobleman
Come On Downtown
The Villians In The Play
The Yankee Prince Waltz*
Yankee Doodle's Come To Town*
Act II
Soldiers Of The King
I'm Awfully Strong For You*
I Say Flo
The ABC's Of The USA*
M-O-N-E-Y*
Tommy Atkins, You're All Right
A Song Of The King
Act III
Opening Chorus
From The Land Of Dreams
Think It Over Carefully*
Cohan's Rag Babe*
Finale
* indicates songs performed by Cohan
Musical Program:
Yankee Prince Overture
Yankee Prince March & Two Step
Waltz From The Yankee Prince
Cohan performing with Chorus singing "Yankee
Doodle's Come To Town" at the end of Act One.
Critic's Corner:
"Mr. Cohan has often exhibited tendencies on the stage toward a kind of vulgarity
that is intolerable there, but he has kept "The Yankee Prince" measurably free
from certain objectionable forms of it. In many of his plays, however successful
they may have been, we have been unable to note any true originality except in
those details that belong to stagehand, but this piece marks a development in
the right direction. That he has individuality, and is capable, is not questioned.
His art is becoming firmer in its touch. A man who can give novelty to a modern
comic opera by introducing into that highly artificial form his observations of the
life around him is clear-headed, and should write on a higher plane than he has
been writing.
His characters in this opera are not drawn from the traditions of the stage, and
they contain no hint or suggestion from recent plays. They are sometimes a
little forced, and are placed in impossible situations, but all within the license
of comic opera. The story is not altogether fantastic, as the title might indicate,
and there is a good deal of truth and significance in the incidents. The term
Yankee Prince comes simply from an incidental reference to the honest
American lover who finally wins the rich American girl after her father has
bartered her away to an English Earl. The satire is not particularly biting, for it
is much too interrupted by the diversions of song and dance. An Englishman
would not accept it as pertinent, for his amazed attention would be absorbed
by the vulgarities of the Americans, which are amusing enough to a
miscellaneous American audience, but incompressible to an Englishman.
It matters not how silly the English Earl is made there would still remain about
him the reality of refinement. However, the incidents and the characters are
close to life and indicate observation at first hand.
There are two songs and dances done by Mr. Cohan and his sister Josephine,
which are exceedingly clever. His sister is attractive, unaffected, animated, agile,
artistic. Among the characters, Mr. Cohan has introduced a few new types that
are as true in spirit and form as could be had in any comedy of consistency and
truth. Tom Lewis as Steve Daly, the manager of a prize fighter, coming in contact
with aristocratic people, gives a performance that evokes consistent laughter.
Fortunately, the vulgarity of the piece is considerably relieved by some incidental
display made necessary by the locality of the scenes and the atmosphere
necessary to the truth of the representation. For example, ladies are seen
passing into the castle to be presented at court. A procession of handsome girls,
American heiresses looking for a title, makes a brave show, the long, sweeping
train of each girl being held up by an attending page. It is a beautiful bit of
brocaded piffle, but it is not vulgar.
Theater Magazine - June 1908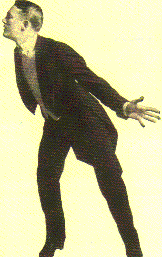 George M. performing
"Cohan's Rag Babe"
in Act III
Cohan's Recollection:
"It was in this play that a reunion of the Four Cohans was brought about.
Besides Dad & Mother, for whom I'd written parts, I also engaged
Josephine for the dancing heroine, and the billing matter read:
George M. Cohan & His
Royal Family
You should have heard what some of the boys had to say when I "pulled"
this line on them. One critic suggested that the advertising matter should
be changed to read, "George M. Cohan & Family Royalties." I don't know
yet whether he meant this for a knock or a boost.
It was during the New York run of "The Yankee Prince" that the American
dancers unanimously agreed that "that guy Cohan certainly is a wonderful
dancer."
I had waited for over fifteen years to hear them say it, and I was the
happiest "hoofer" in the world."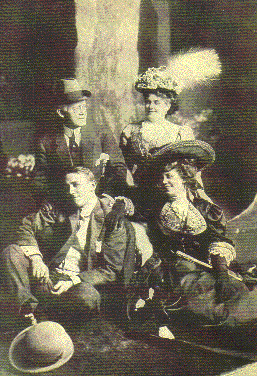 George M. Cohan & His Royal Family
in a publicity portrait for "The Yankee Prince"
Notes:
"The Yankee Prince" displayed more musical numbers performed by George
M. (eight) than any other production he appeared in - three in which he
performed a dancing duet with his sister, Josie ("Yankee Prince Waltz,"
"The A-B-Cs of the USA," & "Rag Babe").
George M. Cohan would not appear in another theatrical production until three
years later, when he starred in "The Little Millionaire." He continued writing
musicals ("The American Idea," "The Man Who Owns Broadway"), began
co-producing plays written by other authors ("The Fortune Hunter"), and
began adapting novels for the stage ("Get Rich Quick Wallingford"). "The
Yankee Prince" represented a crescendo of his years of work in vaudeville,
and a turning point in his career. It is interesting to note that Cohan always
referred to himself, in later years, as a song-and-dance man. Yet, he would
appear in only four more musicals for the remainder of his career (32 years).
This would be the final Broadway appearance of Josie Cohan, and also
the last time the Four Cohans appeared together. Josie had achieved some
success with her husband, Fred Niblo, appearing in "The Rogers Brothers
In Paris," and worked by his side as they toured the world. However,
it never equaled the success she had with the Four Cohans.
Tom Lewis, who had supporting roles in "Little Johnny Jones" (1904)
and later in "The Little Millionaire" (1911), landed the comedic role of Daly
(prize fighting promoter & friend of John L. Sullivan). He was the hit of
the show with his delivery and timing. When reading the script today,
his character seems reminiscent of a W.C. Fields personality (much like the
one Fields used so brilliantly in the film "International House" (1933) - loud,
boisterous, benign) a "typical" American overseas.
Portraying the villain in the play would be an actor that Cohan would use
frequently for the next ten years: George Parsons. Parsons began
working with Cohan in "50 Miles From Boston" (1908) and continued after
"The Yankee Prince" playing in "The Little Millionaire" (1911), "45 Minutes
From Broadway" (1912 revival) "Broadway Jones" (1912) and ending with
"A Prince There Was" (1918).
Also in the cast was a young actor from Scotland named Donald Crisp,
who would later become one of Hollywood's most endearing character actors.
He began acting in silent movies in 1908, which culminated in his landing the
role of General Grant in D.W. Griffith's, "Birth Of A Nation" (1915). He
continued to act, but began a career in directing too. When sound pictures
eliminated the silent films from the screen, Crisp returned completely to his
acting. His credits would include, "How Green Was My Valley" (1941), "The
Private Lives Of Elizabeth & Essex" (1939), "Mutiny On The Bounty" (1935),
"City For Conquest" (1941), "Jezebel" (1938), "Wuthering Heights" (1939),
"Brother Orchid" (1940), "Lassie Come Home" (1943), "The Uninvited" (1944),
"National Velvet" (1944), and many, many more.
Three years after "The Yankee Prince," Cohan would again cast Crisp in "The
Little MIllionaire." Crisp would live until 1974, when he passed away as a result
of a series of strokes, at the age of 93.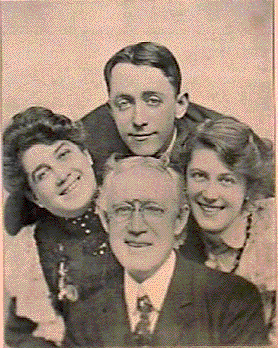 The Four Cohans In "The Yankee Prince"