George M. Cohan In America's Theater
|
home





The Merry Malones
Opened: September 26, 1927
Erlanger Theater, NYC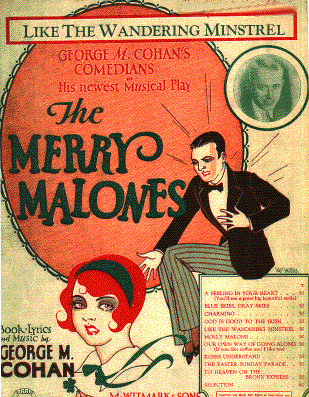 Original Cast:
Molly Malone.........................................Polly Walker
Tony Howard.........................................Frank Otto
Kennedy................................................Frank Masters
Capt. Of Police.....................................Mercer Templeton
John Malone.........................................George M. Cohan
Helen Malone.......................................Sarah Edwards
Charlie Malone.....................................Charles Finan
Tom........................................................Richard Barry
Joe Westcott/Joe Thompson..............Alan Edwards
Annie.....................................................Patsy Ball
Delhia Malone......................................Dorothy Whitmore
Joe Westcott Sr...................................Robinson Newbold
Synopsis:
Joe Westcott Jr., has run away from his billionaire father to become a soda
jerk in the Bronx. His ambition: to marry Molly Malone. Detectives search
the country looking for him (there's a million dollar ransom for his return), but
none can find him. Molly invites Joe to dinner at her family's home, when Joe
finds out about a masquerade ball being held (at one of his father's friend's
home) and Molly express a desire to attend. Not able to refuse the woman
he loves Joe attends. Quickly, his identity is exposed, and Molly leaves him;
feeling he betrayed her trust by consealing his true identity. She continues to
refuse his pleadings however, she does accept an invitation from Joe's
father who tricks her into signing a document giving her all of Joe's inheritance
(to prove she is nothing but a gold digger), and leaving Joe with nothing.
When the father boasts of his successful plan, Molly tears up the contract,
and proclaims her love for Joe is for love's sake only.
Songs:
Act I
Talk About A Busy Little Household
Like A Wandering Minstrel
The Plot
Son Of A Billionaire
Molly Malone*
Honor Of The Family
A Feeling In Your Heart*
The Bronx Express
Trio Dance
A Night Of Masquerade
Behind The Mask
We've Had A Grand Old Time
Charming
We've Got Him
The Plot (reprise)
Act II
A Busy Little Center
Our Own Way Of Going Along
Easter Parade (Great Easter Sunday Parade)
Danse Comeque
Opera - Bouffe Cohanesque
Roses Understand
Dance Cyclonic
Gip-Gip
God's Good To The Irish*
Blue Skies, Gray Skies
Like A Little Ladylike Lady Like You
* indicates songs performed by George M. Cohan
Critic's Corner:
"George M. Cohan returned to his much-extolled Broadway with another bit o'
Killarney, called "The Merry Malones." There is more of a plot in this song-and-
dance show than is usually found in this sort of entertainment, but the story is the
familiar Cinderella one, of a poor girl who falls in love with a soda jerk, who
happens to be the "son of a billionaire." There is little Gilbert & Sullivan, more
of "Irene," and most of George M. Cohan's wholesomeness and capable
direction, not omitting snatches of some of his song hits; two red, white, and
blue flags, his talisman; a brass band and too few of his still lithesome steps.
The audience is with him, as was particularly shown when Georgie, with more
silver thread, than gold, began to do the soft-tread promenade dance that he
used to do when - - It is a large cast, well trained and grouped, pleasingly
costumed and refreshingly spirited. There were many songs, old-time trios
and quartets and, above all, plenty of dancing. Miss Adler and Mr. Bradford,
next to Mr. Cohan, received most of the evening's approval for their dance
"adagio." A daintier and more supple ballet dance than Miss Adler has not
been seen this season. We hoped she would appear twice on the program,
but she didn't.
This is not the kind of musical comedy you're going to leave humming one
of the irresistible song hits, but it's one that you'll enjoy, nevertheless, every
single moment you're there, and we were until 11:45. Robinson Newbold,
as the father of the soda-water dispenser, was as delightful as any one of
the Gilbert & Sullivan comedians.
To the production Mr. Cohan has brought all of his experience and the
thousand and one devices of the showman who senses the things which
make for popular appeal and continually crowded houses."
Theater Magazine - November 1927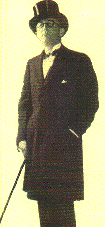 George M. as
"Pops" Malone
Cohan's Recollection:
"When in an emergency in 1927, I decided to go myself in "The Merry Malones."
I had not been under the discipline of regular stage dancing for thirteen years.
For three of four weeks strenuous exercise was anything but pleasant. For a
time, I was in actual pain with a torn muscle. Finally, I capered through the
performance buoyantly. Dancing had taken twenty-five years off my life."
Notes:
During rehearsals of "The Merry Malones," one actor was continuously forgetting
his lines. "Mr. Cohan," the young actor pleaded, "I know these lines backward."
"And that's just how you're saying them son," shot back Cohan. But the young
actor began to protest even further, "Look, I knew these lines in bed last night."
"Props!" yelled Cohan. "One bed!"
In Ward Morehouse's biography on Cohan, "Prince Of the American Theater," he
cites Cohan's unique directorial style. "Cohan, the only director in the world who
directed with his feet-others would use their arms in gesticulation to indicate
movement but Cohan, slumped down in a chair in the front row of an empty
auditorium, would lift one foot and swing it in an arc from left to right - while
his hat was down over his eyes."
Cohan placed himself in the role of John Malone, after Arthur Deagon suffered
from a heart attack during dress rehearsals. In under 24 hours Cohan
rehearsed the part, and with 5 hours rest, gave an opening night performance
that received a standing ovation. He remained with the cast until February
1928.
The musical score for "The Merry Malones" was one of Cohan's best. Although
it didn't have a landmark song (i.e., Give My Regards To Broadway, Mary, or
You're A Grand Old Flag), it did contain some of Cohan's best musical efforts.
The lilt of "Like A Wandering Minstrel," which can be heard briefly in "Yankee
Doodle Dandy," (along with "Molly Malone" and "Blue Skies, Gray Skies") or
"The Great Easter Sunday Parade," performed during the epilogue of
"George M!," are still fresh and haunting.
"The Merry Malones" was the last musical show which was produced, written,
directed by, and contained a performance by George M. Cohan. He would go
on to write direct, and produce only one more musical (Billie) and star in only
two more (The Phantom President and I'd Rather Be Right). However, this was
his last effort to combine all four talents.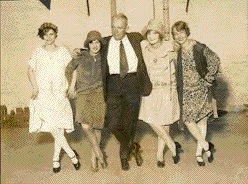 George M. Cohan with female cast
members in "The Merry Malones"