George M. Cohan In America's Theater
|
home





Little Nellie Kelly
Opened: November 13, 1922
Liberty Theater, NYC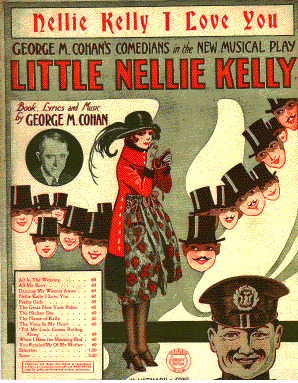 Sheet Music Cover
Original Cast:
Wellesly...............................................Harold Vizard
Matilda................................................Edna Whistler
Sidney Potter......................................Frank Otto
Jack Lloyd..........................................Joseph Niemeyer
Francois DeVere...............................Robert Pitkin
Jean....................................................Dorothy Newell
Nellie Kelly......................................... Elizabeth Hines
Mrs. Langford.....................................Georgia Caine
Marie...................................................Marion Saki
Jerry Conroy.......................................Charles King
Capt. John Kelly.................................Arthur Deagon
Miss Spendington.............................Jean Palmer
Ambrose Swift (The Detective)........Mercer Templeton
Synopsis:
Wealthy millionaire, Jack Lloyd is convinced that he has met the woman of his
dreams; Nellie Kelly. So much so, that he invites the entire staff of DeVere's
Modeling Company, to a party at his elusive NYC mansion just to be introduced.
Obstacles arise however, when Jerry Conroy (a pseudo boyfriend from Nellie's
neighborhood in the Bronx) arrives uninvited to the party demanding to see
Nellie, declaring his love for her (via "Nellie Kelly, I Love You"). Additionally,
a conspiracy between a maid and a butler (they think Nellie is beneath Jack's
status) and DeVeres and his secretary, Jean (they are afraid to loose Nellie
because she is so popular at their clothing store) involves stealing a necklace
from Mrs. Langford (Jack's aunt), and putting the blame on one of the "rough
crowd" from the Bronx. In the end, amidst the efforts of Nellie's father (Capt.
John Kelly) and Detective Ambrose Swift, it is Mrs. Langford who exposes
the clandestine plot. Nellie confesses her love for Jerry, and the two live
happily ever after.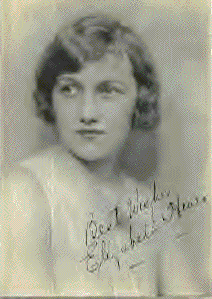 Elizabeth Hines star of "Little
Nellie Kelly"
Songs From The Show:
Act I
Over The Phone
All In The Wearing
Girls From DeVere's
Dancing My Worries Away
Nellie Kelly, I Love You
The Hinky Dee
Somethings Got To Be Done
The Name Of Kelly
Ensemble
Act II
Busy Bus Of DeVere's
The Dancing Detective
They're All My Boys
The Flirting Salesman
You Remind Me Of My Mother
The Great NY Police
The Mystery Play
The Mystery Dance
The Voice Of My Heart
Till My Luck Comes Rolling Along
Reprise
Finale
Critic's Corner:
"This is not a revue. Yet it is not conventional musical comedy. It is a little bit of
drama, a great deal of comic pertness, a senic delight and through all runs an
almost continual strain of lovely music. Its dialogue becomes so serious at times
you scent melodrama, and then one of the heavy dramatists bursts forth in silly
dance steps. There are moments of thrilling mystery and then the police captain
looks at his wrist watch and dashes his pink handkerchief after the dignified
matron who lost the pearls."
New York World
Cohan's Recollection:
"I produced "Little Nellie Kelly" at the Treamont Theater in Boston, where, after a
run of 16 weeks, it had broken all house records. Even "Mary" & "The O'Brien
Girl" were "also-rans" in the matter of receipts and popularity. Four big song
song hits in the play, and altogether my biggest musical comedy success since
the days of "Little Johnny Jones." A second company was organized and
presented the piece on tour, while the original cast held on for a solid year's run
at the Liberty Theater in New York City."
Notes:
The leading characters were named Jerry & Nellie, and Cohan dedicated "Little
Nellie Kelly" to the memory of his father, and surviving mother. This was Cohan's
attempt at the Cohanization of a 1920's style musical. It was a slight departure
from his previous style (both libretto and music), but not enough to escape from
being branded old fashioned. It was, as Cohan attests, very popular, running
248 performances on Broadway, and a few more years on the road.
The show was directed by Julian Mitchell, whose history in the American
Theater includes stage direction with Weber & Field's Music Hall Shows, and
The Ziegfeld Follies of 1907, 1912, & 1915. It was Mitchell, who with Lew Fields,
helped define the role of the chorus within the context of a production. His work at
Weber and Fields' Music Hall, gave him a reputation as one of the best
musical directors of the era. Some of his other credits include, "The Wizard
Of Oz" (1903), "Babes In Toyland" (1903), "It Happened In Nordland" (1904),
& "The Girl Behind The Counter" (1907), both with Lew Fields, "Mary" (1920),
and the O'Brien Girl (1921) both for George M. "Little Nellie Kelly" would be
his last effort. He retired after the show closed and survived another 22 years
without directing another Broadway show.
Cohan also produced "Little Nellie Kelly" in London where it achieved similar
success.
Cohan's music contained a few top selling hits that can be listened to on the
"George M!" soundtrack album: "Nellie Kelly, I Love You," "All In The Wearing,"
" They're All Our Boys" (re-titled "All Our Friends"), and the underrated
"Dancing Our Worries Away."
Cast as Jerry Conroy was Charles King, now a veteren of musical comedy. He
began his career appearing for Lew Fields in "Mimic World" (1908), and later
went on to appear in two more huge hits produced by Fields, "Hit The Deck"
(1927), & "Present Arms" (1928). He also appeared in Cole Porter's musical,
"The New Yorkers" (1930) before starring in a string of early Hollywood talkies,
most notably "Broadway Melody Of 1929" where he introduced Arthur Freed's
now classic song "Broadway Melody."
In 1940, M-G-M made a film with the title of "Little Nellie Kelly" which bore no
resemblance to the original show. The film starred Judy Garland, George
Murphy, Douglas McPhail (who does a great rendition of "Nellie Kelly, I Love
You") and long time Cohan favorite Charles WInninger. Winninger, who is best
known for originating the role of Capt. Andy in "Show Boat," appeared in "The
Cohan Revue Of 1916," & "The Cohan Revue Of 1918." The film was
written by Jack McGowan who appeared in two 1920's Cohan musicals:
"Mary," & "The Rise Of Rosie O'Reilly."